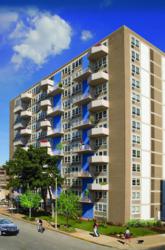 St. Louis, MO (PRWEB) November 23, 2011
In addition to new financing opportunities on the studio and one-bedroom St. Louis condos at Blu CitySpaces, home buyers can now take advantage of a limited-time holiday value package worth up to $5,000. This holiday value package can include brand new home furnishings, reimbursement for moving expenses, or be used to cover closing costs, and will available until December 15th, 2011.
Buyers looking for St. Louis condominiums can save up to 58% with prices starting from just $39,995, and with new financing opportunities buyers can pay as little as $212.20 per month (principal and interest).
"This kind of housing affordability has not been seen for over a decade. The central downtown location enables homeowners to live just minutes from work and enjoy the amenities of downtown living with monthly payments often less than the cost of rent" says Michael Carreno of Paradigm Real Estate Solutions, the Blu CitySpaces Sales and Marketing partner.
Blu CitySpaces presents the perfect opportunity for first time homebuyers and those interested in seeking a second home close to downtown happenings and events. These versatile condominium plans are flexible and open, filled with natural light and abundant storage. Beautiful city views are enjoyed from the expansive windows as well as outdoor terraces on selected homes. European style kitchens include stainless steel appliances, granite countertops, designer fixtures, sleek and modern baths. Blu offers a beautifully crafted lobby area, private fitness center, spacious outdoor patio with cozy firepit and gas grill making it an ideal place to entertain family and friends. The Wi-Fi lounge is an intimate gathering space where you can watch TV, go online or catch up on the day in a relaxing atmosphere. Click here to see floorplans.
Visit the Blu CitySpaces Sales Center at 210 North 17th Street in St. Louis, call our office at (314) 241-3111, or visit the website for more details.
*Monthly payment of $212.40 assumes 30 year fixed rate mortgage with a loan amount of $37,895 and a 5.375% interest rate (5.513% APR). Interest rates are subject to change without notice. Equal Housing Opportunity.
About Blu CitySpaces
Blu CitySpaces offers all of the convenience of urban living at an affordable price. Our high walkability score gives Homeowners at Blu easy access to downtown shopping, restaurants, and events. Explore the freedom of downtown living combined with the freedom of choice. Blu CitySpaces offers five spacious floor plans so you can create a home as unique as you. For more information visit http://www.BluCitySpaces.com.
About Paradigm Real Estate Solutions
Paradigm Real Estate Solutions, Marketing and Sales Consultant for Blu CitySpaces, is a full service national Real Estate Sales and Marketing firm leveraging its proprietary technology platform Marketing Success Portal® to deliver the next generation of real estate solutions for homebuilders, developers and financial institutions. Paradigm Real Estate Solutions' provides market research, proprietary web based technology and internet-centric methods. For more information visit http://www.ParadigmIntel.com.
###