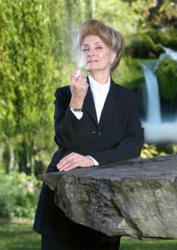 Grants Pass, OR (PRWEB) November 23, 2011
Sharon Kleyne, founder of Bio Logic Aqua Research and host of the Sharon Kleyne Hour Power of Water, announces new information from Larry Wan, a Silicone Valley optometrist, on eye strain, dry eyes, and computers.
Larry Wan has been an optometrist for 25 years and since his office is in the heart of Silicon Valley, he has a special interest in vision and computers. Computers are a major cause of eye strain and dry eye, and the problem is getting worse.
The primary effect of computers is to retard the normal reflexive blink rate. Most people blink around 30 times a minute, or 10,000 times a day. During intense computer use this can drop to as little as five times a minute. Each blink replenishes the moisture in the eye's tear film and prolonged periods of insufficient blinking can cause the tear film to dehydrate.
One problem with computers is that they are a different distance from the eyes than books, so glasses might need to be changed to accommodate this. Also, a computer image consists of thousands of dots (pixels), to which the eye must constantly adjust to keep the images in focus. In a book, the eyes mostly look at sharp, black and white lines. As a result, when working on a computer, the ciliary muscles in the eye that keeps things in focus is working constantly and this can be very tiring.
Regarding the connection between the eyes, the brain, early visual development and stress, Dr. Wan notes a study indicating that 30 to 40 percent of the prison population has vision problems, most of which had gone undiagnosed. Dr. Wan recommends eye checkups at birth, three months, one year, two years and five years.
To prevent computer eye strain and computer caused dry eye, Dr. Wan suggests good lighting, the correct eyeglasses, good posture (to prevent shoulder and headaches), good lighting (not fluorescent), minimized glare, and positioning yourself to look down on the screen. The screen should be slightly more than an arm's length away. He recommends a flat panel rather than a tube screen. Also, follow the "20/20"rule - take a 20 second break every 20 minutes in which you look away from the screen.
Learn more about Dr. Wan on his website at http://www.stanleyeyecare.com.
© Bio Logic Aqua Research
###