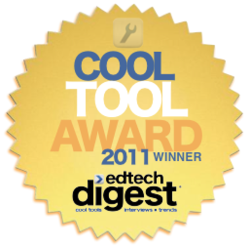 [The winners] are doers. They care deeply and passionately about moving education forward and they're not wondering if education might reform itself—they're getting smart, disrupting old models, shifting paradigms and making change happen now
Salt Lake City, UT (PRWEB) November 23, 2011
EdTech Digest has announced the recipients of its 2011 "Cool Tool Awards," and professional development platform PD360 appears prominently among them, winning the award for best "professional development solution," and coming in as a finalist in the "product or service," "collaboration solution," and "product or service setting a trend" categories.
"The products, services and people that made this list," say the editors of EdTech Digest, "are innovative, respected and outstanding cool tools, leaders and trendsetters moving education forward into the 21st century.'"
"Innovation in education is exploding," adds Victor Rivero, editor-in-chief of EdTech Digest. "There has never been so much activity in this emerging edtech sector, and there's never been a more exciting time…[The winners] are doers. They care deeply and passionately about moving education forward and they're not wondering if education might reform itself—they're getting smart, disrupting old models, shifting paradigms and making change happen now."
And among these "innovators" and "doers" PD360 makes the short list of products nominated and awarded in multiple categories.
"We would be honored to make such an exclusive list just once," says Chet Linton, CEO of School Improvement Network, the makers of PD360. "But to appear four times on the same list is incredible. We thank the people at EdTech Digest for recognizing PD360, and the contribution it's making to improving education."
Anyone can join the School Improvement Network online community for free and receive a free 30-day trial of PD 360, the world's largest online video and professional development distribution network for educators, just by logging on to http://www.schoolimprovement.com and clicking on the free trial button.
About School Improvement Network
Founded in 1991 by teachers, the School Improvement Network provides comprehensive, research-based professional development anytime, anywhere. As the home of The Video Journal of Education, PD 360, Observation 360, the Learning 360 Framework, Equity 360, and Common Core 360, School Improvement Network resources focus on the most relevant topics, feature the top experts, and show educators how to put theory into practice. School Improvement Network works with thousands of schools and districts in every state and around the world and has visited over 3,000 classrooms to document best practices in action. Learn more at http://www.schoolimprovement.com.
About PD 360 • Practical, Scalable, Measurable
PD 360 is the multi-award winning, leading online, on-demand professional learning resource for schools and districts. With 1,800 videos on 117 topics from 120 experts, PD 360 has the largest online community of educators, with over 700,000 subscribers. The innovative PD 360 videos are unique and class-leading because of the quality of production, and each is research-based with classroom examples of best practices. The videos are also relatively short in nature (approximately 6-12 minutes in length) allowing educators access to "snack-able" content that is easy and accessible to view and implement.
Teachers, administrators, professional learning communities, coaches, mentors, instructional leaders, and paraprofessionals have available at their fingertips hundreds of indexed and searchable video segments that present real, best-practice classroom examples and feature respected education experts, such as Michael Fullan, Rick DuFour, Doug Reeves, Rick Stiggins, and many others. Educators can instantly find the help they need on nearly every topic, including differentiation, assessment, English language learners, leadership, and more. PD 360 can also be used to create a structured learning experience for an individual teacher, a PLC, or even an entire school. PD 360 bridges the gap between training and classroom implementation with job-embedded follow-up, tracking, and reflection tools. PD 360 gives educators access to an online community of teaching professionals that allows interaction and collaboration either within a district or across the United States and the world. PD 360 includes over 1,500 research-based video learning segments and is the most comprehensive web-based library of professional development resources available. See a demonstration at http://www.pd360.com.
School Improvement Network, PD 360, and their respective logos are trademarks of the School Improvement Network. All other trademarks and registered trademarks are the property of their respective owners.
Press Contact:
Duane Sprague
School Improvement Network
801-758-9546
duane(dot)sprague(at)schoolimprovement(dot)com
###