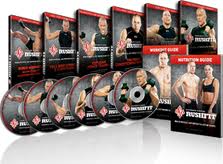 "We are honored to have partnered with GSP on the GSP RUSHFIT program, and to have achieved such an incredible milestone in only our first year is an amazing feeling,"
Vancouver, BC (PRWEB) November 23, 2011
Digital Shelf Space Corp. (the "Company" or "DSS") (TSX.V: DSS; OTCQX: DTSRF) is pleased to announce that its innovative GSP RUSHFIT (http://www.gsprushfit.com) ultimate home workout DVD fitness series has become the #1 selling fitness DVD series of all time by a professional athlete in only its first year of distribution with in excess of 250,000 DVDs sold. The GSP RUSHFIT workout series stars the Montreal-based Mixed Martial Arts ("MMA"), World Welterweight Champion Georges St-Pierre ("GSP").
To celebrate the 1st anniversary of GSP RUSHFIT, Georges St-Pierre will be in-store to sign autographs for the first 150 fans at Sport Chek Sherway, located at Unit B1, 167 North Queen Street, Etobicoke, Ontario, Canada on November 26, 2011 at 10:00 AM EST, and at the Sports Experts St. Catherine located at 930 St. Catherine Street West, Montreal, Quebec, Canada on December 4, 2011 at 10:00 AM EST.
"We are honored to have partnered with GSP on the GSP RUSHFIT program, and to have achieved such an incredible milestone in only our first year is an amazing feeling," said Jeffrey Sharpe CEO and President for DSS. "We believed when we created and produced GSP RUSHFIT with Georges late last fall, that it was going to be a hit with his fans and fitness enthusiasts around the world, but we did not expect to see this level of success in such a short timeframe."
GSP RUSHFIT was designed to appeal to the massive global audience with an interest in MMA and MMA training methods as a complete home fitness workout program. GSP RUSHFIT combines three of the hottest fitness trends. The complete program uses various MMA conditioning exercises, intense circuit style training and body weight training for fitness consumers to build muscle, cut weight and get in shape. GSP RUSHFIT is unlike any fitness program available. This program was carefully designed to give the most efficient and effective workout possible at home with minimal equipment. When consumers see how hard internationally respected athlete Georges St-Pierre pushes himself, working out alongside him will motivate and inspire consumers to push themselves harder, and achieve more than they ever thought possible. Georges St-Pierre has dedicated his life to Mixed Martial Arts and is regarded as one of the top conditioned athletes not only in the sport, but also in the world. Fitness fans everywhere can benefit directly from the same commitment GSP has made to his own health and fitness.
About Georges St-Pierre
Georges "Rush" St-Pierre (also referred to as "GSP") is a Canadian professional mixed martial artist and MMA world welterweight champion who holds black belts in both Kyokushin Karate and Brazilian Jiu Jitsu. He is managed by LB3i Sports and represented by CAA Sports, a division of Creative Artists Agency. For more information about GSP, visit http://www.gsprushfit.com, http://www.gspofficial.com, http://www.facebook.com/georgesstpierre, or follow him at http://www.twitter.com/georgesstpierre.
About Digital Shelf Space Corp.
Digital Shelf Space is an independent producer of home entertainment content and online delivery technology provider to digital retailers, content owners and aggregators. Digital Shelf Space's proprietary technology platform has been custom built to deliver home entertainment content directly to consumers. The platform blends e-commerce functionality and paid DVD, digital download and streaming video delivery. For more information please visit http://www.digitalshelfspace.com and to view our project with Georges St-Pierre, please visit http://www.gsprushfit.com.
ON BEHALF OF THE BOARD
"Jeffrey Sharpe"
President & CEO
FOR FURTHER INFORMATION PLEASE CONTACT:
Digital Shelf Space Corp.
Jeff Sharpe
President & CEO
Tel: (604) 736-7977 ext.111
Fax: (604) 736-7944
E-mail: jeff[at]digitalshelfspace.com
Website: http://www.digitalshelfspace.com
Forward Looking Statements
This news release contains "forward-looking information" within the meaning of the Canadian securities laws. Forward-looking information is generally identifiable by use of the words "believes," "may," "plans," "will," "anticipates," "intends," "budgets", "could", "estimates", "expects", "forecasts", "projects" and similar expressions, and the negative of such expressions. Forward-looking information in this news release include statements about Digital Shelf Space's home entertainment content and online delivery technology; the sales record of GSP Rushfit; and anticipated results and benefits of consumer use of GSP Rushfit.
In connection with the forward-looking information contained in this news release, Digital Shelf Space has made numerous assumptions, regarding, among other things, our delivery platform; the accuracy of data provided to the Company supporting GSP Rushfit's sales record; and the use of celebrity fitness products. While Digital Shelf Space considers these assumptions to be reasonable, these assumptions are inherently subject to significant uncertainties and contingencies.
Additionally, there are known and unknown risk factors which could cause Digital Shelf Space's actual results, performance or achievements to be materially different from any future results, performance or achievements expressed or implied by the forward-looking information contained herein. Known risk factors include, among others: the possibility that the rate of growth of the market for fitness media will slow; future sales of GSP Rushfit may decline substantially compared to sales to date; results from the use of GSP Rushfit may differ substantially from anticipated results; the substantial investment of capital required to produce and market video and entertainment productions; limitations imposed by our financing abilities; unpredictability of the commercial success of our programming; difficulties in integrating technological changes; and other trends affecting the entertainment industry.
A more complete discussion of the risks and uncertainties facing Digital Shelf Space is disclosed in Digital Shelf Space's Filing Statement dated November 16, 2010 and continuous disclosure filings with Canadian securities regulatory authorities at http://www.sedar.com. All forward-looking information herein is qualified in its entirety by this cautionary statement, and Digital Shelf Space disclaims any obligation to revise or update any such forward-looking information or to publicly announce the result of any revisions to any of the forward-looking information contained herein to reflect future results, events or developments, except as required by law.
Neither TSX Venture Exchange nor its Regulation Services Provider (as that term is defined in the policies of the TSX Venture Exchange) accepts responsibility for the adequacy or accuracy of the release.
###