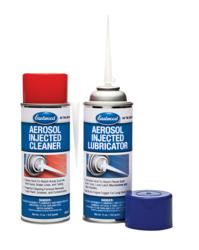 Eastwood suggests surprising the auto enthusiast with one of its newly launched products and see smiles instead of shrugs at gift giving time.
Pottstown, PA (PRWEB) November 23, 2011
Whether shopping for a weekend warrior or a passionate auto restoration DIYer, most family members are facing a daunting task. Many times, these shoppers give up on finding the perfect gift and settle for another tie. Eastwood recently polled its website visitors and found that over 80% rarely or never wear ties.
"Eastwood suggests surprising the auto enthusiast with one of its newly launched products and see smiles instead of shrugs at gift giving time," said Nick Capinski, Eastwood's marketing manager.
Cleaners and lubricants are products every auto hobbyist uses but many of them can be messy and/or ineffective. Eastwood's Aerosol Injection System which recently won the Popular Mechanics Editor's Choice Award solves the problem of getting cleaner and lubricant into difficult to reach small automotive parts. It has a revolutionary nozzle delivery system used in conjunction with cans that spray at 360 degrees. This gift also has countless uses around the home as well as the shop and garage.
Motorheads are always searching for new ways to get heat under control whether under the hood or in the exhaust system. Eastwood Internal Exhaust Coating reduces underhood temperatures and prevents rust from the inside of the exhaust system. It is useful for both new and used exhaust systems, effective for headers and exhaust manifolds and withstands temperatures up to 1800F.
When a hobbyist is a painting perfectionist, an Evolution HVLP Spray Gun, compatible with all solvent and water-based paints, winds up being the 'perfect' gift. It is ergonomically designed and has a light-weight composite body. There are fluid and air control setting indicators for easy and quick set-up.
Whether someone is working on a restoration project or needs to tighten fasteners on newer vehicles, Eastwood recommends giving the gift of precision and accuracy. Eastwood's Digital Electronic Torque Wrenches enables the professional or weekend mechanic to precisely set and measure torque values accurate to 2% clockwise and counterclockwise.
Cold weather reeks havoc with everything it comes in touch with. These Eastwood gift suggestions enable auto enthusiasts to deal with two major problems - battery drain and fuel storage in unused engines.
Eastwood Battery Sustainers charge and maintain any 12-volt battery in storage without the risk of overcharging or causing permanent damage. It is also useful for any 12-volt battery in trucks, lawn mowers, all terrain vehicles, motorcycles and boats.
Eastwood's Fuel Guard combats the significant damage Ethanol blended gasoline can cause to cars, motorcycles, lawnmowers, snowblowers and boats that do not have flex-fuel compatible fuel systems. It has been formulated to prevent corrosion in fuel systems and internal engine components, gum and resin build-up, clogged carburetors, injectors, filters and fuel lines, deterioration of certain types of rubber used in seals and hoses, plus aggravation of water and moisture problems in fuel storage or unused engine situations.
Eastwood's LED lights illuminate the dark areas of a restoration job and make easy to choose stocking stuffers. Eastwood's LED Magnetic Work Light is useful where a larger shop light will not fit.
For the welder on your list, a high-intensity LED, MIG light, makes it easier to see when welding in tight places, like under the car. This person would also appreciate Eastwood's Welding Cart which is designed to hold Eastwood welders and Plasma Cutter on the same cart. It also accommodates welding accessories and bottle.Eastwood's Auto Darkening Welding Helmet automatically dims in 1/25,000 of a second, has a 5000-hour battery life and a 3.6" x 1.7" viewing area.
"Now, you have no excuse for giving the auto enthusiast on your list a tie," Capinski commented.
The Eastwood Company markets unique tools and supplies for repair, restoration, and modification of cars, trucks, and motorcycles as well as home and garage diyers. Founded in 1978, Eastwood constantly strives to develop new products to serve the home automotive hobbyist, as well as individuals and organizations focused on the restoration and preservation of automobiles and motorcycles. For more information or for hi-res photos, please contact Connie LaMotta 845.875.9559.
###