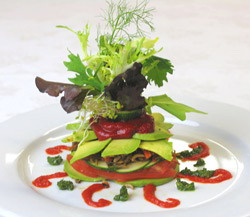 Whether you come to our school to improve your health, help create better eating habits for yourself or your family, or you want to begin a new career in the raw food industry, we're here to help you reach your personal and professional goals
(PRWEB) November 23, 2011
Living Light Culinary Institute, a gourmet raw food "uncooking" school on the Mendocino coast of northern California announces its 2012 line-up of courses, with new packages and bonuses for each training segment. Students who sign up and pay in full for classes by the end of the year can save up to $3,500, depending on which culinary or nutrition package they select. Founder and Director Cherie Soria and her staff have been educating teachers, professional and personal chefs, restaurant owners, caterers, recipe book authors, and stay-at-home parents in the art and science of gourmet raw vegan cuisine since 1998.
"Whether you come to our school to improve your health, help create better eating habits for yourself or your family, or you want to begin a new career in the raw food industry, we're here to help you reach your personal and professional goals," says Soria.
Eight new packages are available, each focusing on a specific personal or professional path. Students can select a gourmet raw vegan culinary track, a raw food nutrition educator program, or a combination of the two, each with substantial savings and bonuses, which include chef jackets, knives, books, and other items required for attending the school.
Soria, author of The Raw Food Revolution and Angel Foods, and her culinary school have attracted students from around the world—over 50 countries and six continents to date—who want to learn how to prepare gourmet raw vegan cuisine.
"We believe that all of our certified graduates need a foundation not only in gourmet raw vegan cuisine, but in how to teach raw foods culinary classes, nutrition and lifestyle to others."
Each of the eight culinary packages includes a 3-week Raw Culinary Arts Associate Chef and Instructor Training Certification to help students develop confidence and master basic chef skills, including flavor balancing and recipe development. The instructor-focused package is a career program for those who wish to become raw food teachers and want to learn how to market classes and create a successful raw food business. The pastry-focused package emphasizes dairy-free and gluten-free low glycemic raw desserts and advanced pastry technique. Other advanced package options include segments on catering, essential oils for culinary and health purposes, and recipe development classes, including spa cuisine and ethnic flavors. Living Light also offers a comprehensive series of courses on the science of raw food nutrition taught by Rick Dina, D.C. and Karin Dina, D.C. Options are also available for those who have graduated from the associate chef program at Living Light and would like to continue their education at the school and receive a gourmet raw food chef or nutrition educator certification.
Living Light International has four eco-friendly businesses on the Mendocino coast of Northern California: Living Light Culinary Institute, Living Light Café, Living Light Marketplace, and Living Light Inn. http://www.RawFoodChef.com
# # #