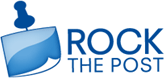 "Where ordinary ideas become extraordinary projects"
New York, NY (PRWEB) November 23, 2011
Rock The Post (http://www.rockthepost.com) announced today the launch of its business social network platform.
"We believe that while 79% of Fortune 100 companies are using social media to market or publicize a brand, few start-ups are able to gain traction through established social networks," said Tanya Prive, COO of Rock The Post. "We will provide online resources and an outlet to fledging entrepreneurs, while allowing these individuals to connect with businesses, talented people, investors, and potential partners."
Rock The Post allows individuals from around the world to connect and develop projects, causes and businesses. No matter what stage a venture or project is at – from conception to funding and beyond – Rock the Post provides the tools, connections, and support necessary for projects to succeed. In this regard, Rock The Post erases the intermediary figure, which most of the time gets in the way.
About Rock The Post
Rock The Post is a business social network website committed to serve as a bridge and communication platform for business partnerships to form, and to become a place where projects, dreams, and passions become reality.
The unique platform targets entrepreneurs, artists, professionals with a wide variety of specialties, and eager investors who are looking for unique investment opportunities or causes to support.
###