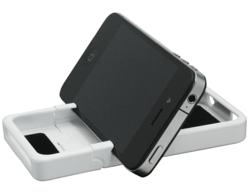 Entertainment anytime and excellent protection.
Santa Monica, CA (PRWEB) November 26, 2011
Nest Cases, makers of multi tasking protective cases, tweaks the world of smartphone cases with an all-new approach to the built-in stand. Thanks to a pair of smartly engineered slots, users of iPhones® and iPod® Touches can easily enjoy hands-free viewing in both portrait and landscape orientation.
The Nest's features make it great for reading Dickens over lunch on a train, Netflix® or YouTube® video streaming on a one-horse sleigh or long-distance chats with elves via FaceTime®. Unlike other cases, there's no bulky easel arm to accidentally break or separate stand to forget at home. Plus, the slim design packs away in any number of tight-fitting locations from skinny jeans to carry on luggage to gift bags. It even stuffs into stockings!
"Smart devices are great for their ability to provide instant entertainment virtually anywhere" says creator and company founder, Del Necessary. "For me, I wanted a stand that was always with me but didn't turn the phone into a chunky block. After an unsuccessful search for the perfect case/stand combo I decided to go my own way. Nest Cases is the result."
Designed in California and engineered in Detroit, Nest is made from strong ABS plastic. It incorporates automotive grade NVH (noise, vibration, harshness) fabric to protect the back of your iPhone or iPod Touch from scratches as well as a front lip to protect the screen. Priced at $24.95 Nest Cases are available for the latest iPhone and iPod Touch at http://www.nestcases.com and Amazon.
Established in 2010, Nest Cases designs and engineers smartphone, PDA and tablet protective cases. The company launched with its release for Apple's iPhone and iPod Touch. Additional products based on our patent-pending design are in development.
###