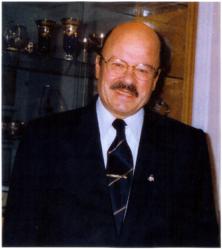 A Huge War is Imminent
return to God the pure Love
Beverly Hills, Florida (PRWEB) November 23, 2011
Admiral P.Kikareas, President of the World Foundation of Peace and Security, has devoted his life for peace and security among humanity. Today for one more time he warns the world that the huge catastrophe is very close and visible. He has come to this conclusion by assessing the world news, crisis and threats using his deep knowledge and long expertise in crisis management.
A few days ago Hudgon New York published. "It is As if We had been Swallowed Up by The Night".
Kikareas tries to give advice to the populate of the world by saying: "My brothers and sisters, please awake up! What is going on all around the world? Wars, killings, corruption, greed, persecution of Christians, civil wars and imminent threats for nuclear strikes are the everyday news. Huge Financial recession and poverty even in the Western World had never been the same. Something is going very wrong. All people have become flesh and ego."
"Even in the Christian Churches, only few counted in some figures are true believers? The prophesies which have written that, in the last days of apostasy it will be hard to find a true believer in Jesus Christ, are now true and visible!"
"People have abandoned the, real, true, Faith of Love and Forgiveness, as Lord and Savior Jesus Christ has taught the humanity with His own Life, which was humble, always following the words of His Father, though He was God Himself. He was persecuted and crucified for us and forgave His persecutors from His Cross. He was perfect God and perfect man and was dressed the Emperor's Rob of humiliation, in order the infinite to be able to be contained into the human body."
"Now these days of apostasy everyone wants to be the Boss, the Chief, in order not to serve, but take advantage of their positions and step over the bodies and lives of those, whom they should take care of."
"Leaders and even the most of the so called shepherds instead of serving His people have become wolves, who eat the flesh and souls of His children and lead them to their catastrophe, because they follow their self interests."
"The people don't have guts to resist anymore, because the Grace of God has gone away."
"No eternal values are followed anymore; everything is for money and personal recognition or glory. People don't exercise virtues, but try to prove that the dark is the light, because this will benefit them in different ways or will satisfy their leaders who are evil."
" Virtues like real love and care defend the rights and the lives of their brothers and sisters families countries and faith, have vanished."
"The fish smells from the head, and if the head smells, unfortunately, all the body is rotten. It is so difficult to find true love and justice, care and sacrifice without self interest today. . God has turned His face away, because the world selected to follow evil."
Kikareas adds, "It is most urgent to repent, as they did in Nineveh, when God sent Prophet Jonah to preach repentance. He asked them to repent because God would destroy them; they did and turned back to Him. God changed His mind and granted them with Peace and Grace".
Today Kikareas makes for one more time a request to populate of the world, to maximize love in order to avoid the coming catastrophe, which he repeats, is very close and visible. "Kikareas assessments" have been proven correct from their results. He has published many press releases, articles, and books.
Like it is mentioned in the "I was there when they Crucified my Lord".
"No one listens," Kikareas says. "For that, the day is real, and the hour very close because people prefer wars than Peace Love and understanding." "When I heard my belly trembled, my lips quivered at the voice….. rottenness entered into my bones, and I trembled in myself that I might rest (be hidden or escape) in the "Day of Trouble". ……(the coming 'Apocalypse'), (Habakkuk 3: 16).
"For there will be Great Tribulation, much has not been since the beginning of the world until this time, nor ever shall be, unless those days were shortened no, flesh (on Earth) would be saved" (Matthew 24:21-22).
"Believe me," Kikareas says, "I see that clearly with the Grace of God who asks you to make a stop here. Seek peace into your hearts and stop hate each other. Turn your face up to God and ask Him to help you find peace and He will grant it to you if you follow His word." "My friends, please, listen to me before it is very late, the time is very short," Kikareas says. "This message has been given to me by God the Almighty, in order to pass it over to you.
"A humble Messenger of Peace and Love."
###