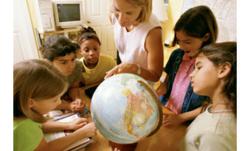 Instead of kicking-off the holiday shopping season we'd like to help teachers kick-off their international teaching career.
Hyannis, MA (PRWEB) November 23, 2011
The International Educator (TIE), a leading resource in international teaching jobs, celebrates its 25th anniversary on the 25th of this month. "We normally would not have a 'Black Friday' promotion, said TIE's marketing director, Brittany Betts, but it just so happens that our 25th anniversary is November 25th, the traditional holiday sale day. This is a way of saying thank you to our subscribers and reaching out to new customers who may never have considered teaching overseas before," said Betts. "We are offering a $25 subscription deal which is a substantial savings off our annual subscription rate, so instead of kicking-off the holiday shopping season we'd like to help teachers kick-off their international teaching career," Betts explained.
TIE, through its website, tieonline.com is the leading source of international school jobs available anywhere in the world. Tieonline also allows teachers to post their resumes in the resume bank where international schools look to find qualified candidates. TIE is a prime resource for schools looking to hire teachers. "I have hired many terrific teachers through the TIE website," said Dr. Lee Yoder, former Director of Narmer American College a K-12 international school in Egypt. This view is echoed by Allan Bredy, Director of the American Cooperative School of Tunis, "TIE allows me to screen files, check references, and to interview well before the traditional recruiting time window. This has allowed me to hire staff early even in tough-to-fill roles . . . I view (TIE) as a key resource in my recruiting," he said.
"This is a valuable tool for teachers looking to make a major change in their career. Working at an international school provides many opportunities for teachers including excitement travel and leadership opportunities that are unparalleled," says Forrest Broman, President of The International Educator.
TIE has experienced record growth in the past 6 years among subscribers and schools using TIE to help staff their international schools. "Most of this is a reflection in the overall growth of overseas international schools, but it's also part of the downward trend in school districts' budgets across the country," says Broman. In the wake of massive layoffs in school districts across the U.S., teachers are finding their skills and experience can be put to good use as international schools around the world are experiencing rapid growth," Broman said.
According to Broman, a former director of international schools in Latin America and the mid-east, "Teachers are looking for opportunities that are no longer available in their home districts, and realizing that they can teach their subject in English and enjoy excellent benefits at top-rate private schools around the world."
The International Educator (TIE), located in Hyannis, MA, is a non-profit organization that for 25 years has been dedicated to developing links among teachers and the extensive American and international schools network worldwide. TIE publishes a quarterly newspaper featuring the latest in international school news and developments for K-12 educators around the world. TIE's website, tieonline.com, offers the widest selection of K-12 teaching and administrative jobs available anywhere in the world.
###