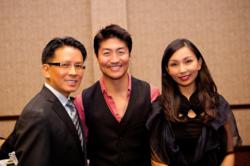 Huntington Beach, CA (PRWEB) November 22, 2011
The Orange County Korean Cultural Center (OCKCC) held its 4th Annual Fundraising Gala and Cultural Leadership Awards Banquet Sunday November 13, 2011 at the Crowne Plaza Hotel in Orange County.
About 250 guests turned out for OCKCC's once-a-year fundraising event. It is their most important event of the year and is designed to provide the opportunity for OCKCC to communicate its vision directly to current and potential members. This year's goal was to raise enough money for permanent office space and staff needed to facilitate the future growth of the organization.
It was a well-choreographed event that included a banquet dinner, awards ceremony, silent auction, and instrumental and vocal performances by the 2011 OCKCC Young Musicians Competition winners and dance performances by Elise Newen and Joo Dance Studio.
Emcees for the evening's festivities were actors Joy Osmanski and Charles Kim who co-star together in the soon-to-be released major motion picture "Wedding Palace." The audience was treated to a debut/VIP sneak preview of the film which is scheduled for Spring 2012 release and has been characterized as the Korean-American version of "My Big Fat Greek Wedding." Producer and director Christine Yoo was on hand, with Brian Tee who plays the romantic lead in the film and Young Joo Ko of Radio Korea there to round out the cast.
OCKCC founder and president Dr. Francis Lee delivered an inspirational message about his vision for the organization that included a visual presentation of a future building developed by architect David T. Rich. A video presentation by Ellipse Productions about what OCKCC means to its participants was viewed. The memorable evening was concluded with a special address by Gala Committee chairs Dr. Steve Yoon, Dr. Katherine Ahn, and plastic surgeon Dr. Peter Newen.
Cultural Leadership Awards were presented to recipients in the form of Certificates of Recognition from Congresswoman Loretta Sanchez and Congressman Ed Royce presented by Irvine City Councilman Dr. Steven Choi. Certificates of Recognition were presented to them by Orange County Supervisor Janet Nguyen:
1. Paul Kim – Entertainment Award
2. Jin Jung Kim, Esq. – Leadership Award
3. Jany Hyo Lee – Civic Service Award
4. Susan Keun-Hang Yang, Ph.D. – Education Award
5. Sister Helga Rim – Humanitarian Award
6. Joo Myung Sook – Performing Arts Award
7. Peter Yun Wook Yi – Lifetime Achievement Award
Musical performances by the OCKCC Young Musicians Competition Winners:
1. Piano solo by Connor Sung
2. Piano solo by Andrew Sung
3. Vocal solo by Elise Newen (accompaniment by James Woods)
4. Piano solo by Aldric Gozon
5. Violin solo by Amber Correa (accompaniment by Angel Huang)
6. Piano solo by Alice Hyoung
Dance performances represented a combination that represented the dual advantage that Korean-Americans have in being able to embrace the best of both worlds in culture, art and music:

Korean Traditional Small Drum Dance performed by Elise Newen and Hwan Hee Kim.
A combination of the Korean Traditional Fan Dance and Western-European Ballet Dance performed by Elise Newen.
Dr. Katherine Ahn
The Image Center
7801 Center Avenue
Huntington Beach, CA 92647
Tel: 714.230.2400
DrAhn(at)ImageCenter(dot)info
http://www.ImageCenter.info
"We Also Support The H.O.M.E. Foundation"
About The H.O.M.E. Foundation:
The Helping Others Means Everything, or The H.O.M.E. Foundation, is a not-for-profit organization dedicated to helping our Family of Charities during these tough economic times through added incentives, luxury raffles and high profile celebrity events. Our mission is to help charities reach their fundraising goals and to bring awareness to their praiseworthy causes. Please visit our Dream Home Raffle at http://www.HOMEFoundationRaffle.com.
###