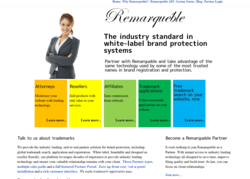 Our approach is to empower attorneys, not replace them
Melbourne, Australia (PRWEB) November 29, 2011
Trademark attorneys have expressed concern over the recent explosion of "online trademark factories" which offer cut-price trademark services. Such services have become increasingly popular as customers are attracted by free trademark search tools and streamlined application processes. Without significant investment in technical infrastructure, which is not commercially viable for the vast majority of trademark firms, it simply hasn't been possible to compete with the leading online service providers. Released today, Remarqueble provides a collection of free industry leading website search, application and filing tools allowing trademark attorneys for the first time to compete on a level playing field with no technical expertise or investment.
"It's ironic – we're commoditizing the technology of online trademark services while others have been focused on trying to commoditize the part you can't – the human part" says Ben Lehman, co-founder of Remarqueble. "Our approach is to empower attorneys, not replace them."
Remarqueble has been working with select partners from around the globe since 2008 to perfect its suite of website tools. The solution is simple enough for attorneys to 'cut-and-paste' into their website but powerful enough to compete with existing dedicated online trademark providers, all the while being sensitive to the consulting workflow important to established attorneys.
"We think these tools bring much needed balance to the provision of online trademark services" says Mr Lehman, who has worked as an intellectual property lawyer for over 12 years. "It's commercial reality that clients expect some interactive search experience when visiting a website. From today, all attorneys can include preliminary trademark search direct on their website, giving potential clients confidence before they speak with a professional."
The Remarqueble tools are designed to be hosted on the public facing attorney website and include multi-country trademark search, application (from simple contact details to full interactive goods and services picker) and filing modules. "The full suite takes around an hour to install into an existing website, bringing functionality to the same level as current industry leaders. For those without a website, we provide an 'instant on' service so you can start with absolutely nothing and, within a few minutes, have a fully branded website attracting new clients."
Remarqueble's service is available from today at http://remarqueble.com
About Remarqueble
Founded in 2008, Remarqueble provides online trademark related technology to search for, register and protect brands. Remarqueble provides brand protection services through a global partner network.
Remarqueble is at http://remarqueble.com
###