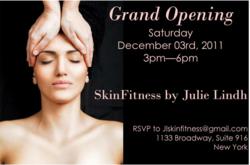 "It's an opportunity for me to say thank you and to treat the customers and friends who have supported me over the years. I am thrilled to open the new office in a location that is ideal for serving current and future clients." Lindh commented.
New York, NY (PRWEB) November 29, 2011
For over a decade Julie Lindh has been providing skincare services to clients, including celebrities and high-end day spas around the globe. On December 3rd, Lindh will open a new private Flatiron office on 1133 Broadway in New York City.
At the new office location, Julie will introduce her Skin Fitness menu including the in-demand 'Red Carpet Ready Facial'. This facial is exclusively offered by Julie Lindh and will be available to those who wish to experience A-list treatment. This new specialized treatment focuses on promoting a healthy glow and skin rejuvenation.
The grand opening event will be held from 3 p.m. to 6 p.m. and is open to current clients. It will include a rare opportunity to receive hundreds of dollars of services gratis. Lindh and her staff will provide mini face treatments and other JL SkinFitness signature services to attendees. Hors d'oeuvres, wine and champagne will be served.
All attendees should RSVP to jlskinfitness(at)gmail(dot)com
About Julie Lindh
World-renowned aesthetician Julie Lindh is a renowned skin care expert. With her uniquely innovative four-phase approach towards skin care, Julie helps patients achieve and maintain clear, glowing and radiant skin, making it easy to understand why some devotees call her "the healer". Lindh's skincare philosophy is based on a belief that treatment is unique to each skin profile. The services offered in her NYC and Sweden based offices are customized, and are provided only after Lindh completes a full skin analysis of each patient. She also travels the world to cater to clientele, including A-list celebrities, socialites and high-end day spas.
JL SkinFitness by Julie Lindh is located at 1133 Broadway, Suite 916, NYC, NY. For an appointment, visit http://www.jlskinfitness.com or email Julie at jlskinfitness(at)gmail(dot)com. Julie also has an active blog, Facebook and Twitter.
###