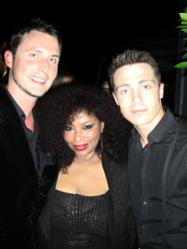 Growing up watching awards shows was one of the things that motivated me to pursue a career in music
Hollywood, California (PRWEB) November 23, 2011
Pop/R&B singer and model Tyler Wade dazzled at the 2011 American Music Awards. He accompanied the legendary souk-funk icon Chaka Khan to the award show. Tyler Wade also attended the Fiat Presents Jennifer Lopez's Official American Music Awards After Party at Greystone Manor Supperclub.
Tyler Wade networked with the who's who of the music, television and movie industries such as Estelle, L.A. Reid, Colton Haynes from MTV's Teen Wolf, Glee's Josh Sussman, Smokey Robinson, Katy Perry, and Will.I.Am among others.
"I was honored to attend the American Music Awards with the legendary Chaka Khan. Growing up watching awards shows was one of the things that motivated me to pursue a career in music," states Tyler Wade. "Being present for the live performances and watching the artists receive recognition from their fans has made me even more dedicated to pursuing my dream. I hope that one day soon I will be up there on stage taking part too."
Tyler Wade is currently recording what is sure to be one of the most highly anticipated pop albums of 2012. The project is a fusion between modern pop music and smooth R&B with a touch of Hip Hop. Tyler Wade recently remade the classic song "Lean on Me" originally recorded by Bill Withers. For more information about "Lean on Me" please visit Tyler Wade's YouTube Channel: http://www.youtube.com/tylerwademusic
About Tyler Wade
Tyler Wade was born and raised near Atlanta, Ga. His father is a Presbyterian minister and his mother is a homemaker and independent business woman. Tyler learned to sing at an early age during participation in the church youth choir under the direction of Linda Manning, and was selected to perform many solos while participating at Midway Presbyterian Church in Decatur, GA. During this time, he developed a passion for music but just like all young people, he had to put this passion in the background for a few years in order to finish school.
Late in his teenage years, Tyler began modeling in the Atlanta area for G-Star, Diesel, and Y-3. He decided to move to Los Angeles in the summer of 2007 to further pursue his modeling career. However, in the background of this endeavor, there was always a desire to pursue music. While living and working in Hollywood, he had the opportunity to become associated with the socialite scene. Through the contacts he made, he began to earnestly pursue music again. Now a budding recording star, he continues to enjoy life in Southern California while finally having the opportunity to pursue his passion for music.
Tyler is working on material for his debut with more details to follow. For interviews and other inquires, please contact Raffles Entertainment: http://www.rafflesentertainment.com
Source: Raffles Entertainment
###