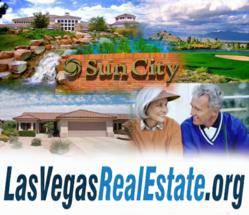 Retirees Showing Increased Interest in Sun City Las Vegas Communities
Las Vegas, NV (PRWEB) November 23, 2011
Retirees may be the most discerning investors in America today making their buying habits popular among all age groups looking for signs of advise in an unstable economy. New sales reports reviewed by LasVgeasRealEstate.org show that retirees may be making Las Vegas homes for sale the #1 choice for buyers and investors for stability. In the last 90-days, Las Vegas homes and condos hit a 5-year high in transactions due to the great deals on bank foreclosures with over 50% of those sales all-cash.
Ashley McCormick of Realty One, Nevada's number one real estate company, says that the most common statement she hears from retirees is "even if the economy get's worse, at least I own my home and have a place to live". McCormick who has been in the industry for over 15-years has seen an increase in demand for active adult communities such as Las Vegas Sun City homes due to the lifestyle they provide. Most of these communities offer some of the top golf courses with state of the art fitness centers, pools and spas with prices starting at just $100K.
These communities also allow the residents to maximize their reach into social events and recreation they may not other wise be able to afford. A recent survey by the Employee Benefit Research Institute indicated that one in three retirees had dipped deeper than planned into their savings to pay for basic expenses in 2011. Communities such as the first Las Vegas Sun City Summerlin community is one of the largest, offering up to 8o special interest groups and onsite entertainment events and dining.
Active adult communities such as Sun City Summerlin homes have had over 100 sales in the last 90-days showing the increase in demand. Sun City Anthem homes for sale, in the South East Las Vegas valley has had over 80 homes sales in the same 90-day period. All 4 Las Vegas Sun City communities combined to also Sun City Alliante and Sun City MacDonald Highland homes for sale total almost 300 purchases in the same time frame.
McCormick has recently activated a toll free line due to the amount of retirees relocating from out-of-state or Canada and can be reached at 1-888-920-2292. She is encouraging serious buyers to do their research and try to find a better option than Las Vegas for price, lifestyle, health-care, dining and entertainment. The amount of all-cash buyer is confirming the confidence that retirees are showing in their decision to buy Las Veas real estate. All homes for sale in Las Vegas to include Las Vegas Sun City homes from $100K to $500K can be viewed online at http://www.LasVegasRealEstate.org.
###