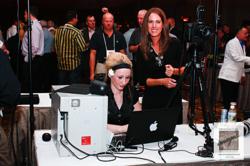 Onsite Printing combined with Social Media. The new way to branding your message.
San Antonio, TX (PRWEB) November 29, 2011
Event photography by Professional Images photography was at it again at the Arizona Biltmore for 7x24 Exchange's opening reception. Capturing the crowd enjoying the evening reception and taking photos of sponsor logos that were all over the place for marketing and advertising collateral is important to the success of any event. Retaining members in associations is also critical and having a photography company to provide high quality images is important to the associations mission to create new members.
Dolci Management Services has been using Professional Images photography for over 10 years for all their association photography needs. High degree of quality photography and the talent behind the lens is what Brandon Dolci, Conference Director for 7x24 Exchange expects and Professional Images photography delivers.
Event photography is not the same as convention photography but often work close together at many corporate, conference and trade-show meetings around the United States. With over 20 years of experience, knowledge, skills and equipment, Professional Images is there to provide any group a variety of photographic services.
Onsite printing is also another product Professional Images photography provided at the opening reception. Social media combined with onsite printing was a hit. Caterpillar contracted Professional Images photography and was amazed at the instant feedback of not just getting the photo printed but for the guests to get a welcome email with the photo attached.
Professional Images Photography's commitment is to bring something different to the arena of convention and corporate photography and is becoming the benchmark for meeting planners in the corporate, convention, trade-show industry.
About Us:
Professional Images Photography has been providing Convention, Corporate and Trade-show Photography since 1987. Based in San Antonio, TX with offices in Washington, D.C., New York, NY, Houston, TX and coming soon, Las Vegas, NV
###