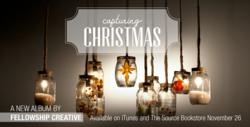 Our hope is that this album becomes the soundtrack to your Holiday season. One that you can not only open presents to on Christmas morning, but that you can create many other Holiday memories to as well
Grapevine, Texas (PRWEB) November 23, 2011
Fellowship Creative, a part of Fellowship Church, has announced the release of their newest album, "Capturing Christmas", available on iTunes November 26. The album with also be released the same day at The Source bookstore, with locations at all five of Fellowship Church's campus locations.
"Capturing Christmas" consists of 10 tracks; nine creative spins on traditional favorites, and one original song written by Fellowship Creative. From a bluesy version of "Rockin Around the Christmas Tree" to "O Come, O Come Immanuel" that has been described as a mix of Bon Iver and the Beetles, the album is both innovative and familiar. "The Answer," the Fellowship Creative original track on the album, was written to be part of every family Christmas tradition for years to come.
"Our hope is that this album becomes the soundtrack to your Holiday season. One that you can not only open presents to on Christmas morning, but that you can create many other Holiday memories to as well." –Pace Hartfield, Creative Pastor and Executive Producer of "Capturing Christmas"
Songs from the album can be heard live throughout the Christmas season and Fellowship Church campuses "Capturing Christmas" experiences. Times and locations can be found on the Fellowship Church website.
Fellowship Creative also released a worship album in July of this year. A collection of worship songs that touch every aspect of life, "The Everlasting" rose to #5 on the iTunes' Christian/Gospel charts. This release followed "Sons and Daughters," a live worship album recorded at Fellowship Church's annual C3 leadership conference.
About Fellowship Church and Fellowship Creative
Fellowship Church is one dynamic church in five diverse locations. Led by Pastor Ed Young, Fellowship Church is a community of people led by Christ to bring hope, strength, and change to the world. Fellowship Creative is a dynamic part of Fellowship Church, a place for creative thinkers and artists to build relationships, grow creativity, and develop resources to build the local church and expand the Kingdom of God.
To learn more about Fellowship Church visit: http://www.vimeo.com/ey, http://www.facebook.com/pastor.ed.young or http://www.faithchannel.com/ed-young
Press Contacts
Andy Boyd
Fellowship Church
andy(dot)boyd(at)fellowshipchurch(dot)com
972-471-5700
Casey McCann
Fellowship Church
casey(dot)mccann(at)fellowshipchurch(dot)com
972.471.5700
NOTE TO EDITORS: For additional information about Ed Young and his ministry visit http://www.edyoung.com or call (972) 471-5700. Fellowship Church and the Fellowship Church logo are trademarks of Fellowship Church. Other company and product names may be trademarks of their respective owners.
###