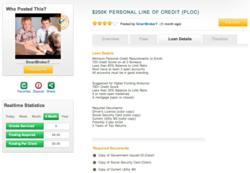 Consumers with 750 FICO scores are being denied by banks.
Los Angeles, CA (PRWEB) November 23, 2011
In a time with a volatile stock market, uneasy federal government and an uncertain economic future, receiving bank financing has become nearly impossible for your everyday consumer. With impeccable timing, Verifico has come to the rescue with its recently launched post-beta web platform. Verifico has created a secure marketplace where consumers and verified loan consultants can connect and conduct transactions without leaving their computer.
The specialty lending industry has become increasingly important as banks and financial institutions have continued to lay-off thousands of employees. Many of these former employees decided to utilize their knowledge and experience to help consumers secure financing in a time when banks are lending very selectively. Specialty consultants that wish to create a profile and display their unique services must first pass a strict Six-Point Verification process in order to receive the Verifico Seal of Approval.
Verifico founder, Paris Benson said, "consumers with 750 FICO scores are being denied by the banks; forcing them to seek alternative methods of financing. Believe it or not, many turned to Craigslist where they would be scammed two or three times trying to find loan programs. Verifico helps the consumers stay safe and separates the good consultants from the bad ones".
By laying all of the cards on the table, Verifico allows the consumer to make an educated decision on which loan consultants to trust. After logging on, one can search a number of specialty loan programs posted by verified consultants, view the loan acceptance criteria before applying, see other users' ratings, comments, reviews and more. With a click of a button, consumers can create an account, fill-out the required documents, apply for the financing program and receive funding without leaving their computer.
Verifico may be a young company, but it is not inexperienced. The twenty-five year old CEO, Paris Benson, has served as the VP of New Business Development for one of the largest online data management companies, as well as starting and managing a fund of funds in Beverly Hills. The company has also brought on an experienced Board of Directors including an Area President of Arthur J. Gallagher Risk Management Services, a Managing Director at Wells Fargo and a high-powered, Washington D.C. attorney. The Verifico platform has been in research and development for over four years before launching. The site had a limited, year-long, beta test during which eight fraudulent companies were shut-down and over $6 Million in funding was garnered by the loan consultants for their clients.
In the upcoming months, Benson and his team plan on releasing new features, solidifying partnerships and creating awareness of the Verifico platform to consumers and consultants throughout the U.S.
About Verifico:
Verifico Corporation hosts http://www.verifico.com, the first secure online marketplace where registered users can search for specialty loan programs provided by verified loan consultants and complete transactions from the platform using Verifico's innovative resources.
Verifico.com's purpose is to ensure that consumers are able find the numerous valid companies offering alternative loan programs while minimizing the risk of fraud. Finding secure resources helps consumers choose from the highest quality consultants and companies. Verifico Corporation has offices in both Los Angeles and Washington D.C.
###