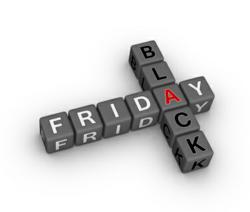 Seattle, WA (PRWEB) November 23, 2011
DNA Response offers its customers a relaxing Black Friday/Cyber Monday shopping experience. The company will run the promotion from Friday through Monday for most of its online stores and will not limit sales as long as product supplies last.
To take advantage of fantastic discount deals, customers do not have to rush to a mall at 3 am or stay up all night to monitor when deals are activated on their favorite websites. Instead, they can take advantage of great savings any time between Friday, November 25th through Monday, November 28th. Special codes will be displayed on the product pages, instructing customers how to enter codes during the check-out process.
Jay Kordich juicers from the "Father of Juicing" himself will be on sale for 15% to 30% off; MagnaBlade breakthrough shaving razor sharpener 32% discount; Comodynes Self-tanning Towelettes will be available at 20% discount – just in time for tropical vacations; Brainetics Math Games DVD sets – perfect gift for both math loving and "math phobic" students in your family – will be offered at $15 discount.
"Black Friday is the peak of the shopping season," said Ranjit Mulgaonkar, President and CEO of DNA Response. "Online shoppers have become extremely savvy and knowledgeable about finding the best deals. In addition to offering the best product prices in 90% of searches for the majority of DNA's online stores, we also would like to take the stress of limited product quantities and hours out of our customers' holiday shopping experience."
About DNA Response.
DNA Response, Inc. (DNA) provides turnkey e-commerce, online marketing, and order management services to companies in the $300 Billion direct response market. DNA clients sell products direct to consumers using TV, radio, print catalogs, web and mobile as their sales channels. DNA's ECOM2TM platform utilizes state-of-the art cloud computing technologies and services to improve operational efficiency by reducing transaction costs, eliminating credit card declines, and lowering order cancellations and product returns, while simultaneously increasing online revenue for our clients. DNA provides universal order management for processing orders in real time from all the sales channels with full visibility to the business for the clients. DNA generates incremental revenues and helps build a brand for our clients by providing comprehensive e-commerce and online marketing services.
###