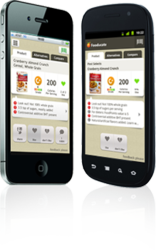 80 percent of Fooducate users indicated that the app has helped them change their food choices at least once
San Francisco, CA (PRWEB) November 29, 2011
Fooducate, the mobile app* that empowers supermarket shoppers to make healthy choices effortlessly, has been used more than 10 million times to scan food products since launching in January. Fooducate's free Android and iPhone app enables consumers to automatically scan the barcodes of food products, and instantly see how nutritious they really are – knowledge that is leading to changes in their purchase decisions.
"People are scanning and learning, then upgrading their cereal, bread, and other groceries," said Hemi Weingarten, founder & CEO of Fooducate. "Many shoppers are surprised to discover that some of the so called healthy and natural foods they are considering are actually not."
Fooducate's scientific algorithms generate a letter grade (A, B, C, or D) for each product scanned, along with brief explanations and warnings about its nutrients and ingredients. Users are just one click away from viewing similar, but healthier alternatives. The dietary challenges that Fooducate tackles include excessive sugar and sodium, hidden trans fats, dubious additives and preservatives, and controversial food colorings.
Users may also comment on products and indicate whether they like them or not. The reviews are taken into account when Fooducate's algorithms suggest healthy alternatives. "That way, the app recommends healthy foods that are also tasty," said Weingarten.
Fooducate has reached an impressive 400,000 weekly user sessions and is growing month over month. In a recent survey, 80 percent of Fooducate users indicated that the app has helped them change their food choices at least once. More than half said that Fooducate led them to try a new, healthy product that they had never eaten before.
"Switching from a cereal with 3 teaspoons of added sugar to a cereal with just 2 teaspoons, can save you a pound of body weight over the course of a year. Imagine the cumulative health impact of just one food improvement per week," Weingarten commented.
Poring over millions of scans in the last few months, Fooducate has gleaned some interesting statistics:

The most popular food categories include cereal, yogurt, and snack bars.
The most frequently scanned product is Jif Peanut Butter**.
Frequently scanned products are from brands such as Kashi, Cheerios, and Coca-Cola.
Fooducate's extensive product database is continuously updated thanks to the diligence of its user community. So far, users have submitted over 250,000 products and updates to the Fooducate database, which is the most comprehensive and current nutrition data source in the US today.
About Fooducate
Fooducate powers food purchase decisions. The company's goal is to help shoppers choose healthy, tasty, and affordable food, and to affect positive change on the food industry. Fooducate's tools include free apps (Android, iPhone) and daily blog (blog.fooducate.com). The company was founded by Hemi Weingarten, a tech entrepreneur, foodie, and father of three young children. For more information about Fooducate, please visit http://www.fooducate.com.
*Fooducate is currently available for Android and iPhone (iPod touch, iPad too!).
** The companies, products, and brand names mentioned herein are trademarks of their respective owners.
###