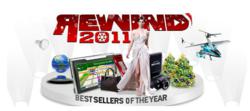 HongKong (PRWEB) November 23, 2011
Life would be truly rewarding if everyone was given the chance to rewind some of the best moments that they have experienced in life; DinoDirect is giving consumers the opportunity to purchase the store's best sellers this year through their Best Sellers of the Year promotional sale.
The store's manager urged all consumers to "join the 2011 rewind," he added "We present the best sellers of the whole year in Clothing, Shoes & Accessories, Home & Garden, Toys & Hobbies, Car Accessories and Health & Beauty."
'It is the season to be jolly,' and apart from the online retailers sale, a number of parties and celebratory events are lined up for the Christmas season. Everyone strives to look great for special occasions; the online retailer is offering their collections of best selling special occasion dresses on sale. Fashion inclined individuals usually look up to celebrities for fashion inspiration. The store understands that many people would like to look as glamorous as their favorite stars do at red carpet events and that is why they have also placed their collections of celebrity dresses on sale.
The other aspect of Christmas that enhances the joyful atmosphere is the well-lit porches, which welcome carolers and party guest to partake in the festive season. The store has also placed their stock of led light bulbs on sale during this promotional period. The store's manager explained that "everybody uses light bulbs and everybody needs them. We offer a lot of light bulbs that are reliable and at exceptional value."
The young at heart and the young in general love radio controlled devices. These devices are not only fun to fly around in backyards or at the park, but they also provide an opportunity for family members to bond over barbecues and cookouts as they watch the RC toys soar through the skies. In line with the festive season, the radio controlled devices top the list of this year's recommended Christmas gifts.
The store has also placed their stock of Digital Multimeter tools on sale. DinoDirect's Best Sellers of the year promotion is on time, because it allows shoppers to buy the best Christmas gifts well before the traditional last minute rush leads to stock depletion. This is also the right time for every shopper to invest in some of the products that they have not been able to buy. With the store's unbelievably low prices, every shopper can own some of this year's highest selling electronic products.
However, consumers who miss out on this first sale will get a chance to buy the store's vast range of products at their 2nd Best Sellers of the Year sale.
###