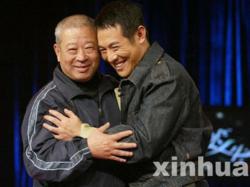 Today's mind - body medicine traces back to Shaolin internal arts with over 1500 years tradition and evolution
Atlanta, GA (PRWEB) November 25, 2011
WuBin, "Father of Modern Wushu", the mentor of international action movie superstar Jet Li, is coming to visit the 31st generation Shaolin Grand Master DeRu. Together they will give three major presentations and seminars in New Orleans, Mobile and Atlanta metropolitan areas.
The topics of the presentation and seminars will be

Olympics dream-Wushu over 50 years' journey,
Wushu connection to education and Chinese culture
Mind-body medicine traces back to Shaolin internal arts with over
1500 years' tradition and evolution

Kungfu presentation and Tai Gong instruction for health and wellness
All participants will have an opportunity to participate in mind-body connection learning experience.
The seminars will be held on
Friday, January 6th, 6:00-8:00 PM in New Orleans, LA,
Saturday, January 7th, 2:00-4:00 PM in Mobile, AL,
Sunday, January 8th, 2:00-4:00 PM in Atlanta, GA,
To register please visit: http://www.shaolin-world.net or call 770-286-9808
About The Teachers:
WuBin is one of the most renowned Wushu coaches in the world. He has produced more champions than any coaches in China. Among his students are the internationally acclaimed action movie superstar Jet Li and Asian action movie star Wu Jin. He is the former president of the Beijing Wushu Institute, having headed extremely successful Beijing Wushu Team for decades. He had been leading the Asian Wushu Federation Technical Committee and International Wushu Federation for 2 decades as The Technical Chairman. He was selected by Olympics committee in China as one of the Olympics torch carriers at 2008 Olympics in Beijing.
DeRu (Shawn Liu) is the 31st generation Grand Master of the Shaolin Temple, one of two close indoor disciples of the late Great spiritual leader and Great Grand Master of the generation Shi SuXi. Master DeRu was named the "Godfather of Sanshou in America" by International Kungfu Magazine. The documentary films entitled: "Father of American Sanshou" was aired world wide by Central Chinese TV International Networks… He has produced numerous national Kungfu and Sanshou champions in the US including five world champions. Among them are UFC Fighter Patrick Barry and Cung Le…He has been leading the Pan American Kungfu Sanshou technical committee for over a decade as the chairman and head coach of the US national Sanshou team.
Li Qiang is a 32nd generation disciple of the Shaolin Temple, world traditional Wushu champion, Legend of Kungfu Masters world Kungfu champion and national traditional Wushu champion of China. He has taught Shaolin Kungfu and Traditional Wushu in many Asian countries and in the US. He has a Master Degree in International Kungfu Coaching from the Beijing Sports University.
Chen Zhe is a national level instructor from China. He has taught in both China and US. He has performed for prestigious organizations such as the Central TV Networks of China. He participated in 2008 Olympics publicity film for the Olympics Committee of China. He graduated from the Beijing Sports University.
###