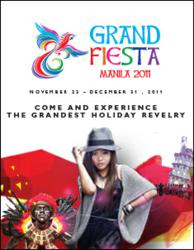 Pasay City, Philippines (PRWEB) November 25, 2011
When it comes to merrymaking, there are two big things Filipinos are known for: the seemingly endless fiestas celebrated in different parts of the country at different times of the year, and the longest Christmas season in the world.
Those looking to experience the Philippines at its merriest should look no further than Resorts World Manila (RWM), where the most festive fiestas meet the happiest holidays in one excitement-filled month of celebrations: Grand Fiesta Manila (GFM) 2011.
The celebration rolls off with a trip through Philippine history from the 1930's—told through an elegant vintage car exhibit from November 22 to 29 at RWM's Newport Mall, featuring iconic automobiles whose classic looks and rich heritage transport guests to bygone eras.
Grand Fiesta Manila 2011 then switches on the full festive mode with the Tree Lighting Ceremony on the first of December. A giant Christmas tree becomes the centerpiece of the Newport Mall, bursting into light and live music, as it becomes not just a holiday ornament, but a beautiful stage where some of the best chorale groups perform carols Sundays to Wednesdays from December 1 until Christmas eve.
To celebrate Pinoy local culture, RWM gives homage to its trusty and colorful mode of transport, the jeepney, with Biyaheng Makulay from December 4 to 9. Artists and celebrities showcase their take on the iconic passenger vehicle as they dress up miniature jeepney models.
RWM presents an amazing showcase of Filipino talent as the Newport Mall becomes a hub of free entertainment, with performances from champion school dance teams, acrobats, and magicians as they strut their stuff at The Plaza Thursdays to Sundays, from December 1 to 25.
Families will enjoy as street performers of all kinds – stilt walkers, jugglers, unicyclists, cosplayers, magicians, mimes and clowns, perform at the Newport Mall on weekends of December.
Naughtier than nice, funnyman Rex Navarette will have you in stitches with his spot-on wisecracks on December 2 at Genting Club.
Comedian Jon Santos celebrates 2011 with "Jon to the World" on December 5 and 6 at the Newport Performing Arts Theater. Known for his hilarious impersonations of famous people, Jon will deliver his signature character skits and spoofs of current newsmakers.
And what would a Filipino fiesta be without an exhibition of musical talents? Former child singing contestant and current international musical star Charice starts off the season with a Christmas concert on December 2 at the Newport Performing Arts Theater. The Christmas spirit then continues to soar as groups from different schools sing off in A Night of Carols Chorale Competition on December 19.
Filipino fashion meets folklore with Pintadas on December 17 at Genting Club, a body-paint show where some of the country's top fashion designers, namely, Randy Ortiz, Rhett Eala, Rajo Laurel and Tweetie De Leon, putting their creations directly on models in a unique retelling of the country's traditional legends and stories.
The sweetest minds then meet in a challenge to create the best cake design, with well-known Pastry Chefs as judges in the mouth-watering and eye-catching event on December 18 at The Plaza, Newport Mall.
An astonishing display of colors and wonders provides concrete proofs to the richness of Filipino culture. In the Fiestas Filipinas parades on December 3, 10 and 17, the halls of Resorts World Manila become a colorful promenade as dancers and percussionists in festive costumes parade in a display of various feasts from the different regions of the country.
As an added holiday treat, guests shopping, dining, playing and relaxing at RWM can join Day and Night Raffle Delight 2, where they could get the chance to bring home a brand new Mercedes-Benz and other exciting prizes all month long.
Those who are looking for someplace special to take the family on Christmas day itself should definitely come to Resorts World Manila, where a Christmas high mass will be held on December 25. Celebrate the reason for the season, and then follow it up with a nice family lunch or dinner in the country's new favorite hangout.
To cap off the year, Resorts World Manila will present three simultaneous New Year's Eve Countdown parties at Bar 360, Newport Mall and Genting Club on December 31, with some of the country's best performers to kick off the New Year.
The holiday season doesn't get better or merrier than at Resorts World Manila's GFM 2011.
###