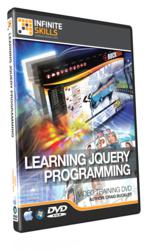 Makes Learning JQuery Easy
(PRWEB) November 24, 2011
InfiniteSkills Inc has just announced its new jQuery Tutorial Video Course, which includes 4.5 hours of lessons showing how to use the popular Javascript library to create interface elements for websites and apps. In addition to jQuery itself, the course also covers aspects of HTML5, CSS3 and AJAX as they apply to solving real world design and development challenges. The full course can now be ordered from the InfiniteSkills website for USD $99.95.
JQuery Programming Tutorial Video - Training Course
"JQuery is one of the fastest growing web technologies out there, and we're happy to finally release a title our customers have been begging for," said Colin Boyd, sales director for Infinite Skills. "Just as in the past, we've aimed to create a course that is beginner-friendly but also relevant to professional work."
The jQuery programming tutorials begin with a basic introduction to the technology itself, covering the initial download, the basic file include, a demonstration of chaining and a primer on when jQuery should and should not be used in a project. Next, tutor Craig Buckler goes hands-on with CSS Selectors, Animation, and the Document Object Model (DOM) by which jQuery page manipulation takes place. Subsequent chapters move through JQuery Utility options and functionality, AJAX applications, and finally a guide to the plugin format that makes sharing jQuery code incredibly convenient.
Viewers get guidance in creating their own plugins as well as adapting and existing ones, with real, accessible sample code created by the author that can be taken apart and applied as the user wishes. Corresponding files and code are included throughout the jQuery programming course to facilitate project-based learning and make the videos even easier to follow.
"Because he's actually a working web developer, Craig is at his best when he's helping users get hands-on with the code," said Chris Johns, content coordinator for InfiniteSkills. "The tutorials are packed with examples that can be directly applied to any number of website or web app projects."
As a professional web designer, Craig Buckler has completed projects for large tech companies such as Yahoo and Microsoft, as well as respected media institutions such as Thomson Reuters and The Financial Times. He is passionate about standards compliant design and holds expertise in HTML5, CSS3, ASP, PHP, Apache and numerous other development technologies.
Johns said in addition to the jQuery training, the company is also in the process of creating new courses for HTML5, CSS3 and MySQL to offer a full suite of resources on web-based development. Today, the new jQuery Programming tutorial course can be purchased on a cross-platform compatible DVD-ROM or as a direct download from the company website. Both options retail for $99.95, with purchasing options for customers worldwide.
http://www.infiniteskills.com/training/learning-jquery-programming.html
About InfiniteSkills Inc
North American-based InfiniteSkills has defined itself as a leading provider of video training on the world's most popular programming languages and software applications. The company aggressively seeks all opportunities to put professional tutorials in users hands, including a new mobile app.
###