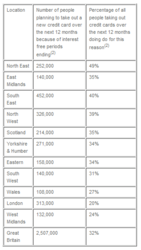 In total 7.9 million people told us they plan to take out a new credit card between October and September 2012.
(PRWEB) November 24, 2011
Analysis of industry data(3) by Sainsbury's Credit Cards reveals that the typical balance transfer APR on cards offering interest free periods rises to 18.2% APR once these expire. Similarly, the average typical interest rate for cards offering an introductory 0% interest rate on purchases is 18.0% APR.(3)
The Sainsbury's Credit Card offers Sainsbury's shoppers with a Nectar card 0% APR for the first 12 months on all their shopping(1) and balance transfers (3% BT fee). The card has a typical APR Representative of 16.9% on purchases once the interest free period expires.
Stuart McKeggie, Head of Sainsbury's Credit Cards said: "In total 7.9 million people told us they plan to take out a new credit card between October and September 2012, and 32% of these said it is because of their interest free periods ending on their existing cards. This is still clearly the main reason for taking out a new card, and for those that want to spread their costs, it can be a sensible financial planning option.
"Our Sainsbury's Credit Card offers a very attractive interest free period on both balance transfers and purchases."
In terms of where most of the new credit cards being taken out over the next 12 months as a result of interest free periods ending, half of those taking out a new card in the North East (49%) will do so because of this, 35% of those taking out a new card in the East Midlands will do so, and 40% of those in the South East.
To find out more about the Sainsbury's Nectar Credit Card call 0800 030 4429 or log onto http://www.sainsburysfinance.co.uk or pick up a leaflet in your Sainsbury's supermarket. Customers applying for a Sainsbury's card should have their Nectar card ready when they apply.
Notes to editors:
(1) Terms and conditions apply. Full information is available at http://www.sainsburysfinance.co.uk Representative example: Purchase rate is 16.94% p.a. variable, with a representative 16.9% APR variable based on borrowing £1,200 and repaying over 12 months. To keep the promotional rate you must pay at least the minimum payment by the due date and stay within your credit limit.
(2) ICM interviewed a random sample of 2004 adults aged 18+. The interviews were conducted via an online omnibus survey between 12th –13th October 2011. Surveys were conducted across Great Britain and the results have been weighted to the profile of all adults 18+. ICM is a member of the British Polling Council and abides by its rules.
(3) Sainsbury's Finance analysis of Moneyfacts data (26.10.11)
Sainsbury's Finance:
To view their latest press releases and product information, please visit the Sainsbury's Finance online media centre at http://www.sainsburysfinance.co.uk/media
Sainsbury's was the first major British supermarket to open a bank, commencing trading in February 1997. Benefiting from a fantastic, trusted brand that enables us to combine the shopping experience with personal finance, Sainsbury's Finance provides a range of quality products including insurances, credit cards, savings and loans. Our proposition is to make shopping more rewarding by offering customers great products at fair prices, while consistently rewarding shoppers for their loyalty and being easy to do business with at all times. Our products consistently top Best Buy tables and regularly win awards for quality, price and service.
Sainsbury's Finance recent awards include Best Overall Online Provider, Best Online Pet Insurance Provider, Best Online Personal Loan Provider and Best Direct Home Insurance Provider at the Your Money Awards 2011. It was also named Most Competitive Term Assurance Direct Provider at the Moneyfacts Awards 2011.
Sainsbury's Finance is a joint venture between J.Sainsbury plc and Lloyds Banking Group.
For further information and general Sainsbury's Finance enquiries customers can call the freephone number on 0500 40 50 60 or visit http://www.sainsburysfinance.co.uk
###