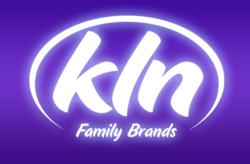 We are excited about the opportunities to expand our brand awareness
Perham, Minnesota (PRWEB) November 25, 2011
KLN Family Brands is pleased to announce the launch of two new websites designed to expand their brand awareness and expose their products to a global audience. The KLN Family Brands website is http://www.KLNFamilyBrands.com, replacing the former "KLN Enterprises" website. The new Barrel O' Fun website remains at the same address, http://www.BarrelOFunSnacks.com, with more product information, ways to order, opportunities to get involved and an expanded social media presence. Based in Perham, Minnesota, KLN Family Brands is family-owned, founded by Kenny Nelson with Tuffy's Pet Foods. Those founding principles remain today, even though the company has expanded to create and distribute numerous brands and products.
KLN Family Brands is the owner of Barrel O' Fun snack foods, Tuffy's pet foods and Kenny's Candy. Barrel O' Fun includes a variety of snack foods from potato chips to popcorn, with a variety of flavors not found in other brands. Tuffy's pet foods include one of the top premium pet food brands in the country called "NutriSource". Kenny's Candy manufactures one of the top selling licorice products with their Wiley Wallaby brand, a favorite everywhere it is sold.
Charlie Nelson, Director of Sales and Marketing, of KLN Family Brands states, "We are excited about the opportunities to expand our brand awareness and inform the world of all that we offer in snack foods, candies and pet foods." KLN Family Brands will be launching several new brands and product lines throughout 2012, with a continued increase in the use of social media and marketing. Family-owned businesses may be on the decline but the Nelson family businesses are poised for growth. These new websites demonstrate their commitment to quality, community and success.
About KLN Family Brands:
KLN Family Brands is a family-owned business located in Perham, Minnesota. KLN started in 1964 with Tuffy's Pet Foods, and has continued to expand its brands and products. NutriSource pet food, Wiley Wallaby licorice and Vic's Popcorn are just a few of their top brands sold throughout the United States. KLN currently manufactures a variety of pet foods, snacks, candies and naturally organic brands.
# # #