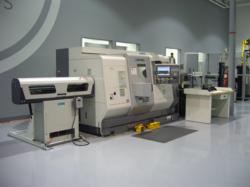 Partners in THINC is pleased to have LNS America rejoin. As the economy continues to rebound, it's even more important that we offer usable productivity solutions. LNS helps do this.
Charlotte, NC (PRWEB) November 28, 2011
Okuma America Corporation is pleased to announce that LNS America, a leading provider of machine tool accessories, has re-joined Partners in THINC.
As a single-source supplier of advanced bar feeder, chip and coolant management systems, work-holding devices, oil mist collectors and other products, LNS America helps manufacturers achieve superior productivity throughout their production lines. Their core objective includes the mission statement: "Be the global partner of choice automating manufacturing with innovative solutions," which is apparent when you look at their 35 year track record of dedicated service to businesses around the world. At LNS, satisfying customers means more than delivering a quality product. It means that all LNS equipment will operate flawlessly when matched to the appropriate machine tool; the installation of both the machine tool and its LNS accessories will be seamless; and the LNS equipment will enhance the machine tool's ability to deliver optimum performance.
LNS America products can be seen and demonstrated at the Partners in THINC facility in Charlotte, North Carolina and at the Okuma Tech Centers in Chicago and Houston.
About Okuma America Corporation:
Okuma America Corporation is the US based affiliate of Okuma Corporation, a world leader in the development of computer numeric controls (CNC) and machining technology, founded in 1898 in Nagoya, Japan. Known for its technology leadership and world-class manufacturing, product quality and dedication to customer service, Okuma strives to be the machine tool solution provider to manufacturers worldwide. For more information, visit http://www.okuma.com
About Partners in THINC:
Partners in THINC is a unique facility and concept offering integrated solutions and a one-stop-shop designed to streamline current manufacturing processes, improve capabilities, or for exploring advanced manufacturing options. Each member of Partners in THINC brings specialized equipment, expertise and a commitment to provide the best possible integrated solutions to the end-user. For more information, visit http://www.partnersinthinc.com.
About LNS America:
LNS works closely with the leading machine tool OEMs, their distributors and systems integrators to understand the ever-changing challenges they and their customers face. In this way, LNS pioneers new technologies, product refinements and support systems that pay off in improved productivity and profitability for all. For more information, visit http://www.lns-america.com.
# # #