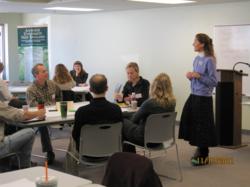 The next generation of workers will also have to be skilled at networking, financial literacy and adapting to change.
Keene, NH (PRWEB) November 29, 2011
Every seven seconds, a baby boomer turns sixty years of age. Who will replace them in New Hampshire's workforce?
Young professionals, those twenty-five to thirty-five year-olds, are leaving the state at a rate too high to replace retiring workers, said Kate Luczko, executive director of Stay Work Play-New Hampshire, at a strategy breakfast hosted by Antioch University New England (AUNE) November 18. More than fifty people from around the state gathered at the breakfast to brainstorm about how to keep these young workers in New Hampshire after they graduate from college.
A good quality of life and strong sense of community are strong draws for New Hampshire graduates, who appreciate the ease with which they can become involved in community here. Attendees also said that young workers have the flexibility to move up in their companies and to build their skills. But there are drawbacks, too—lack of affordable housing is one. And although New Hampshire is open to diversity, it has not attracted a wide diversity of people.
Employers at the event talked about challenges to hiring recent New Hampshire graduates: a sour economy, the expense of training new hires, especially when employees of that age are prone to move from job to job, and a lack of core competencies in some prospects. To these employers, value-based skills such as accountability, integrity and the ability to fail are important. The next generation of workers will also have to be skilled at networking, financial literacy and adapting to change.
Michele Beasey of New Hampshire Businesses for Social Responsibility, said that although the tough economic times make it hard for employers increase new hires, they still need to make the effort to employ young professionals.
A follow-up event will be held to discuss the progress that has been made, said Polly Chandler, chair of AUNE's Department of Management and its MBA in Sustainability program, who helped organize the event.
Antioch University New England's MBA in Sustainability
AUNE's MBA in Sustainability students are leaders of change that recognize that profit is only one measure of an organization's success.This MBA features a forward thinking business curriculum that emphasizes balancing a company's financial health with environmental sustainability, quality of work life, ethical practices and corporate social responsibility. Choose from a weekend or accelerated option.
About Antioch University New England (AUNE)
Antioch University New England offers highly respected doctoral, master's and certificate programs in education, environmental studies, management and psychology. Located in Keene, New Hampshire, this unique institution serves approximately one thousand students each year. Our graduates have gone on to be leaders of positive change, working toward a more just and sustainable society. Founded in 1964, Antioch University New England is the oldest of Antioch University's graduate campuses. Learn more at: http://www.antiochne.edu.
About Antioch University
Antioch University serves adult students around the world and across the country, online and at its five campuses in four states. Each campus offers degree programs that meet—and often anticipate—the pressing needs of its region and the wider world. The University is also home to the landmark PhD in Leadership and Change; Antioch Education Abroad, an exceptional opportunity of immersive service and study programs; and WYSO, a leading public radio affiliate and an essential source of global news and opinion.
Antioch University is a nonprofit private 501(c) (3) organization and member of the North Central Association of Colleges and Schools, accredited by the Higher Learning Commission. For more information, visit http://www.antioch.edu.
###