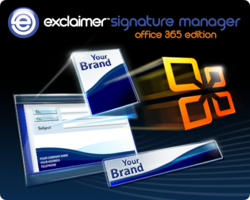 the impact of signatures, without the effort
(PRWEB UK) 25 November 2011
Office 365 users can now centrally control everyone's Outlook signatures from one PC, Exclaimer have announced.
'Ease is efficiency' explains Ian McDougall, IT strategist, 'with signatures, an update process of emailing it to everyone in the company for them to copy/paste is too costly, too tiring and too error-prone.
'Firms choose Signature Manager and Office 365 for the same reasons: they need convenience without compromise – so we had to provide that same power on Office 365.'
Users can control every Outlook signature centrally and allocate different versions as needed: one for sales, one for HR and another for both to use on replies, Exclaimer explains.
A point-and-click editor lets them add images and place fields for names and contact details – which are auto-filled with the correct details for each user, instantly.
No add-ins are required, they assert, and Outlook isn't modified: Signature Manager just circulates new signatures, each one pre-filled with each user's details automatically.
Exclaimer suggests an Office 365 user can go from download to perfect email signatures, for everyone in the company, in minutes.
Most useful, they enthuse, is the mastery over social media: signatures can include a LinkedIn 'Recommend', a Facebook 'Like', Twitter feed and more.
Exclaimer's new Office 365 signatures page can be found on their website, where users can also download and try Signature Manager – for free.
Exclaimer's CEO, Andrew Millington explained, 'I send 50 emails a day but give out about two business cards a year – so why do they get so much more attention?
'A business needs signatures to look professional, but letting staff do it themselves looks shambolic, and updating them all manually creates too many errors – and takes too long.
'We want users to be free from that compromise: they get all the impact of signatures, without the effort of maintaining them – now on Office 365.'
Exclaimer
UK: +44 (0) 1252 531 422 | US: +1 888 450 9631 | Email: marketing(at)exclaimer(dot)com
We are Exclaimer. Fortune 500 companies, technology giants and Brisbane coffee houses trust us to make email better - and we've been doing it since 2000.
Whether they need signatures on every email, or just anti-spam that only stops spam - but not mail - Exclaimer can help.
We have 35 million users worldwide and Microsoft-certified software for every version of Microsoft Exchange and Microsoft Outlook since 2003.
We make email the way it should be: your way.
For further information, please contact:
Neal Stanborough/Chris Brown
Exclaimer Ltd
neal(dot)stanborough(at)exclaimer(dot)com
chris(dot)brown(at)exclaimer(dot)com
http://www.exclaimer.com
###