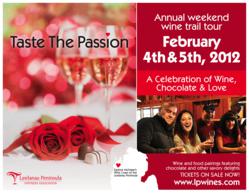 This is a perfect chance to hit a Christmas gift or Valentines Day home run!
~Leelanau Winemaker Larry Mawby
Leelanau Peninsula, MI (PRWEB) November 30, 2011
Share the love of Leelanau (and Leelanau wine) at the "Taste the Passion" wine tour, held February 4 & 5, 2012. This special weekend celebrates wine, chocolate and love at the wineries of the Leelanau Peninsula Wine Trail in Northern Michigan.
Your ticket allows you to chart your own course, enjoying food and wine pairings at 17 wineries along with a optional winter and Valentine-themed activities at many of the wineries.
"Taste the Passion is definitely our most intimate event," says winemaker Larry Mawby. "Our tasting rooms are cozy refuges in wintertime, and with less people on the trail, it's a great opportunity to talk directly with winemakers and vineyard owners. To top it all off, Leelanau County is a winter paradise, offering everything from cross-country skiing and snowshoeing, to enjoying great meals at our restaurants, and evenings by the fireplace. This is a perfect chance to hit a Christmas gift or Valentine's Day home run!"
Tickets are just $30, and quantities are limited. Secure yours as soon as possible, as most of our trail events do sell out. There are also lodging packages that include tickets!
Come early for a Friday night reception at the Homestead Resort. Visit http://www.lpwines.com for complete details!
Taste the Passion Food Pairings:
Bel Lago will feature their Pinot Noir paired with a slice of Decadent Chocolate Cake.
Black Star Farms presents a molten chocolate cake with vanilla bean infused crème anglaise and pistachio cranberry white chocolate bark paired with their Sirius Cherry dessert wine.
Brengman Brothers will pair Runaway Hen Syrah and a bittersweet chocolate truffle with Parmesan cheese, coarse sea salt, and bacon.
Chateau de Leelanau is serving up Cherry Chipotle Mole Chicken Wings paired with their Riesling Harvest Select.
Chateau Fontaine offers Greek-inspired Chocolate Chili Dogs, topped with Cheddar Cheese and optional onions paired with their Big Paw Red.
Cherry Republic will be serving a chocolate coffee cake truffle with their Shook Dessert Wine.
Forty-Five North will have red wine marinated figs wrapped in bacon with mascarpone cheese and drizzled with a red wine chocolate sauce paired with 45 Red, a blend of Pinot Noir, Cabernet Franc, & Merlot.
Gills Pier will be serving mini chocolate/honey mousse cups with sea salt and cocoa nibs, paired with their Whitewater, a semi-sweet white wine made with Vignole grapes.
Good Harbor offers Chicken Jalapeno Soup paired with their Fishtown White.
L. Mawby will give you one piece each of chocolate/bacon and maple/bacon fudge from 45 Parallel Candy World along with their sparkling JADORE.
Silver Leaf entices you with chocolate almond & cherry clusters, paired with two-time gold medal awarded, "Chafia Cherry" wine featuring their new label.
Tandem is serving crepes with chocolate cream cheese filling topped with a Bardenhagen Farms strawberry sauce and paired with cider, of course!
Verterra is serving Vol au Vent Baked French Brie with Verterra Jam (preserves made from wine grapes) and Granny Smith matchstick apples paired with their award-winning Pinot Gris.
The Leelanau Peninsula Vintner's Association is a 501c3. The LPVA was formed in 2000 with a goal to help spread the word about all the wonderful things the Leelanau Peninsula has to offer including a growing number of award-winning wineries, excellent restaurants and a rich agricultural history. Today, it is the largest and strongest of the four organized wine trails in Michigan which promote the state's nearly $790 million grape/wine industry.
--
Leelanau Peninsula Vintners Association
http://lpwines.com/
231-421-1172
--
Join our Facebook page and connect with other Leelanau wine lovers!
http://www.facebook.com/lpwines
###