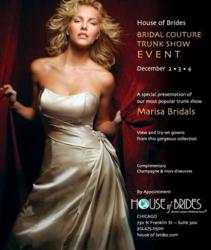 President Eva Buziecki states, "Marisa Bridals has a unique sophistication that makes Brides feel beautiful and chic."
Chicago, IL (PRWEB) November 24, 2011
House of Brides Couture is located in the River North neighborhood at 730 North Franklin Street, Suite 300, Chicago, Illinois. The trunk show will showcase the designer's 2011 wedding dress collection, which will be on display for customers to view and try on. Special incentives are often offered during trunk shows.
Designers and retailers use trunk shows to preview and feature a collection. The term "trunk show" was coined from designers transporting their bridal gown samples in steamer trunks to studios.
Trunk shows are exclusive events where wedding gown samples are on display and are available for brides to view and try on. House of Brides specializes in Couture, exclusive and one-of-a-kind bridal gowns. Customers are catered to and served champagne and Hor d'oeuvres while shopping. The shows are by appointment only to ensure brides are given the ultimate experience with an expert sales consultant.
The Marisa Bridals 2011 collection will be featured at the trunk show scheduled December 2nd – 4th. Popular styles from previous seasons will also be included. The wedding dresses have versatile silhouettes, rich fabrics and Couture detailing. President Eva Buziecki states, "Marisa Bridals has a unique sophistication that makes Brides feel beautiful and chic."
House of Brides trunk shows are by appointment only. The Marisa Bridals Trunk Show is Friday December 2nd, Saturday December 3rd and Sunday December 4th. The trunk show is available at the Couture salon in Chicago. Customers may call the salon at 312-475-0500 to arrange for an appointment.
To view House of Brides ads in upcoming shows, visit the website at http://www.houseofbrides.com/TrunkShows.aspx
About House of Brides:
House of Brides established its first brick-and-mortar store in 1929 and has since grown to 10 Chicagoland stores and global E-Commerce website, http://www.houseofbrides.com. Millions of Brides and their wedding parties visit our salons and global website for over 30,000 wedding and special event products.
###