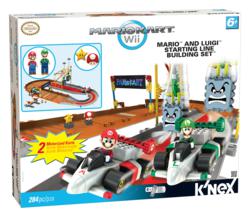 President and CEO of K'NEX, Michael Araten, commented, "K'NEX products have long been a favorite of parents and kids. Receiving approval from experts and, most importantly, kids themselves is rewarding. We are honored to be part of this elite group."
Hatfield, PA (PRWEB) November 23, 2011
K'NEX Brands, the only US construction toy company focused on Building Worlds Kids Love™, is the recipient of the 2011 Good Housekeeping Best Toy Award for its K'NEX Mario™ and Luigi™ Starting Line Building Set designed for kids ages 6+. The Good Housekeeping Research Institute (GHRI), the product-evaluation lab of the magazine staffed with scientists, engineers, and researchers, took several months to examine and evaluate hundreds of different toys and narrowed it down to 85 products to move forward to face the toughest test of all – seeing what a lab full of kids thought about them. Over a period of seven days, 115 children ranging in age from 3 to 14 played with the toys and filled out nearly 1,000 surveys to choose the 20 winners of this award.
President and CEO of K'NEX, Michael Araten, commented, "K'NEX products have long been a favorite of parents and kids. Receiving approval from experts and, most importantly, kids themselves is rewarding. We are honored to be part of this elite group."
To see the 2011 Good Housekeeping Best Toy Award Winner review on this product, visit http://www.goodhousekeeping.com/product-reviews/childrens-products/toy-reviews/good-housekeeping-best-toy-awards-2011?click=gtkb#slide-13
About K'NEX Brands
Founded in 1992, K'NEX Brands, the world's most innovative construction toy company, was established to make and sell what has become one of the world's leading integrated construction systems for children. Winner of over 200 international awards and recognitions, K'NEX is America's building toy company focused on Building Worlds Kids Love, and encourages youngsters to "imagine, build and play." Since 1992, The Rodon Group, a subsidiary of K'NEX Brands, L.P., has manufactured over 30 billion parts for the K'NEX building toy system. For more information, please visit http://www.knex.com or http://www.rodongroup.com.
###