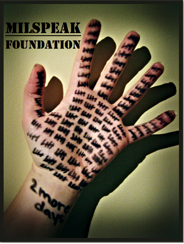 Rancho Santa Margarita, California (PRWEB) November 25, 2011
MilSpeak Books, the nonprofit digital publishing division of MilSpeak Foundation, Inc. (501c3), publishes creative works by military people. MilSpeak Books was founded to create a venue for military people who write and because military people's contributions to American Literature are largely unrecognized and unpublished by corporate publishers. To date, MB has published ten titles with many more titles scheduled for release in 2012. At a time when other presses are losing readers, MB's reading audience is growing and this press is operating in the black. And, through MilSpeak Foundation's Sied Books program, more than 2000 MilSpeak Books titles have been given away to deployed troops, wounded warriors, and their family members.
MilSpeak Foundation is also pleased to announce annual literary award nominations. Tom Sheehan's KOREAN ECHOES - a memoir in verse - has been nominated for The Society of Military History Distinguished Book Awards. Andrew Syor and Henry Avignon's TRIPTYCHS has been nominated for the F&W Media, Inc. Publishing Innovation Awards for excellence in digital publishing.
For the second time in literary history, MilSpeak Foundation has nominated six military people for the Pushcart Prize. Whether published by MilSpeak Books or appearing in MilSpeak Memo, the only U.S. literary journal for military people, these six writers demonstrate excellence in creative writing.
Casey Cavanaugh - "Is Anyone Listening" - MilSpeak Memo V7.SU.11
Tom Sheehan - KOREAN ECHOES, an excerpt - MilSpeak Memo V7.Su.11
Marc Yablonka - "Steve Stibbens: Semper Fi Correspondent" - MilSpeak Memo V7.FA.11
Sean Brendan Brown - "Nowhere When It Burns" - MilSpeak Memo V7.SU.11
John Koelsch - "Thunder Six" an excerpt from MICKEY 6 - MilSpeak Memo V7.SU.11
Danny Johnson - Flash Fiction Selections - MilSpeak Memo V7.SU.11
MilSpeak Foundation was founded and is led by Sally Drumm, a disabled veteran who, in August 2005, began a creative writing seminar for military people that has grown by virtue of a volunteer network, quality writing, and a need for the services the foundation offers. MilSpeak Foundation programs are always free to military people. MilSpeak Foundation, Inc., a 501c3 public nonprofit organization, introduces military people to stress management through participation in the Arts, publishes eBooks by military people (MilSpeak Books) and a literary eZine (MilSpeak Memo) for military people, preserves in art and literature a history of the everyday in military life, fosters communication and understanding between military and civilian cultures, and promotes freedom of speech for military people by providing venues for their creative works. MilSpeak Foundation seeks to raise awareness about creative works by military people to a more visible and influential position in American culture and seeks to be a leader in shaping a receptive climate for creative works by military people. By developing new audiences, creating new avenues for delivery, and encouraging creativity among military people, MilSpeak Foundation aspires to make creative works by military people directly relevant to the public, while diminishing the military stereotype and assisting military people assimilate their experience through participating in the Arts. Visit the MilSpeak Foundation website for more information about programs.
"Making meaning of trauma allows the combat veteran an opportunity to step away from the conviction that nobody 'who hasn't been there' can possibly understand or accept him. It's a way of putting a hand out and inviting others to take it. In taking the hand offered, the process of re-membering is fulfilled." --Shawne Steiger, PTSD Counselor & MilSpeak Anthology Contributor
# # #