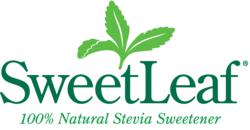 Gilbert, AZ (PRWEB) November 28, 2011
James May, founder and CEO of SweetLeaf Stevia® Sweetener, and the first person to manufacture and market stevia products for the US market, applauded the decision by the European Commission approving steviol glycosides for use as a tabletop sweetener and as an ingredient in foods and beverages.
As the first stevia extract to achieve GRAS (Generally Recognized As Safe) status in the United States, SweetLeaf Stevia® Sweetener has anticipated the regulation allowing the sale and use of stevia products in all European Union member states for several years. Last year, May was invited to speak about educating the European consumer to guarantee demand for stevia products at the Preparing for Stevia Approval in Europe conference in London. He advised the audience that, due in large part to growing health concerns, the market for alternative sweeteners will continue to trend toward natural, nonnutritive sweeteners, with 100% natural SweetLeaf Stevia® Sweetener offering the optimum solution for people who want to avoid both calories and chemicals.
Throughout his thirty years in the stevia industry, May has focused on producing a pure extract which is free of chemicals that can interact negatively with taste and health. SweetLeaf is processed using only cool, purified water and a proprietary glycoside extraction and filtration technique. The result is an all-natural sweetener with zero calories, zero carbohydrates and zero glycemic index.
SweetLeaf is prepared for the increased demand for tabletop stevia products from consumers, offering the widest range of stevia products produced by a single company. Manufacturers wanting a high-quality stevia extract in their products to appeal to discerning consumers will gain marketplace advantage with SweetLeaf, the top-selling stevia brand in the US natural category.
The only company to win major taste awards, including the National Restaurant Association Best in Show, The Foodie Award from Vegetarian Times, and the prestigious ISANH Global Stevia Award 2010-2011 for taste and sustainability, SweetLeaf looks forward to new opportunities in Europe.
About SweetLeaf Stevia® Sweetener
It all started with one man who had a dream – James May, Founder and CEO of Wisdom Natural Brands®. Stevia is a naturally sweet herb native to Paraguay that has been consumed for centuries. After tasting stevia leaves given to him by a Peace Corps worker, May made it his mission to bring the extract from the deliciously sweet plant to the United States. May is now world known as "The Father of Stevia."
May's perseverance and dedication to bringing stevia to the U.S. ultimately resulted in SweetLeaf Stevia® Sweetener, a 100% natural sweetener with zero calories, zero-carbohydrates, zero-glycemic index, and zero chemicals. Only cool, purified water and high-grade stevia leaves are used in its "green" processing. SweetLeaf® is the 2010-2011 Global Stevia Products Award winner for taste, technology and sustainability.
In March 2011, The American Herbal Products Association (AHPA) awarded James May the 2011 AHPA Visionary Award, in recognition of unwavering, persistent dedication in the advancement of all-natural stevia. May was also was presented with the Lifetime Achievement Award by Stevia World International in June 2010. Today, May is a leading expert on stevia and travels across the world promoting the benefits of the stevia plant.
Wisdom Natural Brands®, a leading U.S. manufacturer of stevia products, offers SweetLeaf Stevia® Sweetener in convenient double-serving packets. SweetLeaf Stevia® Sweetener is sold in boxes containing either 35 or 70 packets. Each packet replaces two teaspoons of sugar. SweetLeaf® is also sold in the SweetLeaf Stevia Plus® Shaker Bottle for easy home use and SweetLeaf SteviaTabs™ Dissolvable Tablets for easy on-the-go use.
For more information, visit http://www.wisdomnaturalbrands.com.
MEDIA CONTACTS:
Diego Romero
McFadden/Gavender
O: (520) 882-6262
M: (520) 401-1693
diego(at)mcfaddengavender(dot)com
Karen Gavender
McFadden/Gavender
O: (520) 882-6262
M: (520) 603-4200
karen(at)mcfaddengavender(dot)com
Website:
http://www.sweetleaf.com
###