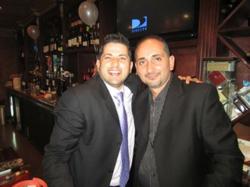 We invite you and your friends to join us for a FUN evening.
San Diego, CA (PRWEB) November 23, 2011
Churchill Cigar and Wine Lounge, San Diego County's only exclusive Diamond Crown Lounge is holding another one of its special cigar events on December 2, 2011. Star lighting the event will be the premium La Gloria Cubana line of cigars.
Hosted by the owners and cigar aficionados Willy Ibrahim and Dani Hurmiz the event is expected to be another packed and entertaining event. Large discounts are available on the La Gloria Cubana line.
Buy 1 box of La Gloria Cubana (various sizes labels) receive 10% discount and 10 cigars free
Buy 2 boxes of La Gloria Cubana (various sizes labels) receive 15% discount and 22 cigars free
Buy 3 La Gloria Cubana cigars and receive 1 free.
Dani said, "I promise you a fun filled night of great cigars, fine wines, international beers, good food and new friendships. Invite a friend to join you for the evening."
The event is free and Chef Willy is preparing a special culinary feast for the attendees at NO cost. At the last event his "Willy Tacos" were a big hit.
The event promises to be filled with fun, networking, meeting new friends and business deals started.
"All of our events are to show appreciation for our loyal customers and to introduce Churchill Diamond Crown Lounge to new customers" commented Willy.
Churchill Diamond Crown Lounge is an elegant destination and sports the largest walk-in humidor in San Diego County with over 600 square feet of the finest cigars. From the mild to the bold, there is a cigar for every palette and pocketbook. Select your favorites from the exclusive Diamond Crown Julius Caesar to a full line of Rocky Patel and La Gloria Cubana and dozens more. The 5 big screen TVs are continually broadcasting sports and news. The wines and beers are some of the finest from around the world. A full line of cigar accessories are available and private lockers to keep those cigars at a perfect smoking environment.
Time and location of the event
Friday, December 2, 2011
2pm to 10pm
7094 Miramar Road, corner of Distribution (Apx. 2 miles east of 805)
The event is free
About the Company
Churchill cigar and wine lounge has 2 locations, one located in Old Town San Diego and the exclusive Diamond Crown Lounge located on Miramar Road in San Diego. Both locations carry the highest rated cigars, wines and international beers. Old Town offers a large covered outdoor patio complete with a big screen TV and filled with friendly patrons having a good time with friends and visitors. The Miramar Diamond Crown Lounge is an elegant destination for business meetings or just to meet and enjoy friends.
###