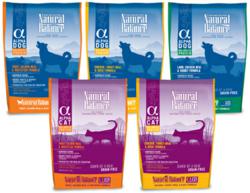 ALPHA Dog and Cat Formulas were paws-down winners; we couldn't find a single dog or cat that didn't like them
Pacoima, CA (PRWEB) November 28, 2011
Pet Product News International Magazine, the leading industry resource for pet retailers in North America and respected worldwide, has awarded Natural Balance Pet Foods with the 2011 Editors' Choice Award for ALPHA™ Dog & Cat Formulas.
The publication received a record number of products—more than 300—to review this year and selected winners based on innovation, function and design. "Our experienced editorial team was faced with the difficult task of deciding which products out of the amazing array were truly exceptional. Forty dedicated evaluators, along with their pets, put the products through rigorous testing prior to the final vote," said Sheri L. Collins, editor of Pet Product News International.
Introduced in January 2011, the ALPHA product line offers a grain-free blend of high-quality proteins and unique fruits and vegetables for a naturally balanced diet. The dry food collection is scientifically formulated to combine the benefits of balanced protein levels with novel ingredients like garbanzo beans, prebiotics and sweet potatoes. The ALPHA line is available for both dogs and cats in Chicken, Turkey Meal & Duck Formula and Trout, Salmon Meal & Whitefish Formula, as well as an additional Lamb, Chicken Meal & Rabbit Formula for dogs.
"Combining multiple proteins, including fiber-rich garbanzo beans, with fruits and vegetables like zucchini and blueberries for dogs and pumpkin and garden greens for cats, make ALPHA different from anything else on the market," said Heather Govea, Senior Vice President of Independent Sales & Corporate Marketing at Natural Balance®. "We are thrilled to hear Pet Product News International recognizes the innovation and function behind our formulation."
The November issue of Pet Product News International Magazine states, "ALPHA Dog and Cat Formulas were paws-down winners; we couldn't find a single dog or cat that didn't like them…And our human reviewers appreciated that the first ingredient in every formula was real meat."
For more information about Natural Balance ALPHA Dog & Cat formulas, please visit http://www.naturalbalanceinc.com.
About Dick Van Patten's Natural Balance Pet Foods®
Based in Pacoima, California, Natural Balance® was founded by Dick Van Patten and Joey Herrick in 1989 on the philosophy of providing pets and their owners The Food For a Lifetime™. All Natural Balance® products are free from artificial flavors, colors and bleached ingredients, and are used and respected worldwide by top trainers, breeders and caring pet owners who want the best for their animals. In addition to its more than 50 dog and cat food varieties, the Natural Balance® product catalog includes several Zoological Formulas™, which are currently fed to carnivores, bird of prey and reptile populations in some of the most prestigious zoos and animal reserves across the country.
For more information about Natural Balance®, its Buy With Confidence™ program and its unique product line, please visit http://www.naturalbalanceinc.com.
###