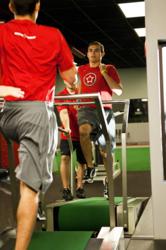 Park City, UT (PRWEB) November 28, 2011
Athletic Republic, a national network of training centers, has helped over 800,000 athletes improve their performance over the last 21 years. With that experience Athletic Republic knows that athletes can be a challenging bunch when it comes to holiday gifts. Based on what athletes have said this year, the following is our suggested 2011 top 10 gift list that will likely satisfy everyone from the Junior High School athlete to the weekend warrior:
1. Nike SPARQ Vapor Strobe eyewear – For every athlete who uses their eyes (and who doesn't?) the new SPARQ Vapor Strobe eyewear from Nike improves performance by enhancing visual skills such as focus, object tracking, anticipation timing, reaction time, balance/stability, visualization, and peripheral vision. For more information and to purchase online visit http://www.seesportbetter.com.
2. Gatorade G Series Pro – Hydration makes the perfect stocking stuffer for any athlete on your list. Gatorade's G Series is a 1-2-3 approach to athlete nutrition and hydration before (Gatorade Prime), during (Gatorade Perform 02 and G2 Perform 02), and after (Gatorade Recover 03) training or competition. For more information go to http://www.gatorade.com.
3. Warm-Up Cords – For athletes who participate in any sport that involves throwing, a warm-up cord is the ultimate tool to strengthen and loosen critical throwing muscles, reduce warm-up time, and reinforce correct mechanics. For more information and to purchase online go to http://www.warmupcord.com.
4. Personal Training – Speed, power and agility make a perfect holiday gift. Athletic Republic sport-specific training programs will give your athlete a step up on the competition in the New Year. To find the Athletic Republic location near you go to http://www.athleticrepublic.com.
5. Suunto Heart Rate & Training Watches – Athletes can take their training to the next level with heart rate monitor watches. Whether at the gym, or working their way to the top of a mountain, Suunto heart rate watches monitor heart rate; optimize fitness levels; and maximize weight loss and calories burned. For more information go to http://www.suuntowatches.com
6. Nike TKO Shield Hoody – As the temperature dips athletes need something that repels water, cold and excuses for uninhibited speed and domination during outdoor training activities. For more information visit http://www.nike.com.
7. iPod Nano – Athletes love their tunes! The iPod Nano will keep your athlete moving and grooving. The built-in accelerometer in the iPod Nano gives athletes real-time feedback on their workout, and they can upload data to the Nike+ website to create personal goals, check their progress, and challenge their friends to top their results. For more information go to http://www.apple.com.
8. Madden NFL 2012 – Sometimes athletes need to chill and gaming is the way they do it. While they play a lot of different games, this one is a perennial favorite. For more information go to http://www.ea.com/madden-nfl.
9. Sports Illustrated Almanac 2012 - America's favorite sports almanac since its introduction 21 years ago, the Sports Illustrated Almanac now has 2011 covered, from football to fencing, hockey to handball, and everything in between. The Sports Illustrated Almanac features essays by top Sports Illustrated writers; all-time stats and records; and ticketing and venue information for pro baseball, basketball, football and hockey. It's the ultimate argument-ender. Available at your favorite book retailer.
10. Smartphone Apps – For athletes it's amazing what your Smartphone can do with the right app. There are a number of apps out there but here are two suggestions: Android phone – Zephyr HxM delivers heart rate, speed and distance by combining Bluetooth™ technology and Zephyr's patented smart fabric technology. iPhone – Wahoo fitness products wirelessly connect your iPhone to your favorite fitness sensors such as heart rate straps and stride sensors.
About Athletic Republic:
Athletic Republic is the nation's leading franchisor of evidence-based performance sports training centers. Over 800,000 athletes have taken advantage of its individualized, sport-specific training programs to enhance their speed, power and agility to gain more than just a step on their competition. More information regarding Athletic Republic can be found at http://www.AthleticRepublic.com.
###