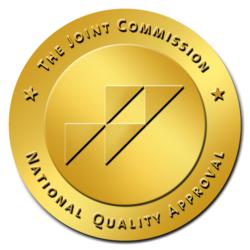 Receiving the Joint Commission's re-accreditation award is the ultimate stamp of approval from the main oversight authority in the healthcare industry
Sarasota, FL (PRWEB) November 29, 2011
Hoveround Corporation, the nation's leading direct-to-consumer manufacturer of power wheelchairs, has once again earned The Joint Commission Gold Seal of Approval™ for accreditation by demonstrating the highest level of compliance with the Joint Commission's national standards for healthcare quality and safety. This accreditation award recognizes Hoveround's dedication to continuous compliance with the Joint Commission's state-of-the-art standards, and represents Hoveround's fourth re-accreditation by the Joint Commission. Hoveround first received accreditation in 1999.
Hoveround underwent a rigorous and unannounced on-site survey in September 2011. A team of Joint Commission expert surveyors evaluated the power chair company's compliance with industry standards of client care, including organization leadership, provision of care to clients, infection control and emergency management.
"In achieving the Joint Commission re-accreditation, Hoveround has demonstrated its commitment to the highest level of care to clients," says Margherita Labson, RN., Executive Director, Joint Commission Home Care Accreditation. "I commend Hoveround for successfully undertaking this challenge to elevate their standard of care and instill confidence in the communities served."
Tom Kruse, CEO, President and Founder of Hoveround, offered the following statement. "Hoveround works very hard, every day, to improve how we serve individuals with mobility challenges, and the physicians who help them. Receiving the Joint Commission's re-accreditation award is the ultimate stamp of approval from the main oversight authority in the healthcare industry. It's a great honor for Hoveround to receive this recognition once again."
Hoveround Corporation is the only vertically-integrated power mobility device manufacturer in the United States. Hoveround controls the entire power wheelchair process from their Sarasota, FL factory - from manufacturing and custom assembly, to delivery and service of power chairs for qualified clients throughout the county.
About Hoveround Corporation
Hoveround Corporation has dedicated nearly 20 years to providing mobility solutions, such as power wheelchairs, which genuinely improve the quality of life for individuals with limited mobility. Hoveround is the largest power wheelchair manufacturer that delivers directly to the customer, having provided over 175,000 power chairs to those in need. Every Hoveround power wheelchair is custom assembled in the U.S.A.
Hoveround Corporation's full line of mobility solutions also include the HOVERLIFT Suite of personal mobility and lifting solutions, wheelchair ramps, motorized scooters, and mobility accessories to help people with mobility challenges regain their independence and freedom.
###