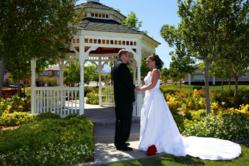 In an effort to give back to the community, Scenic Las Vegas Weddings has declared Valentines Day 2012 as "Free Las Vegas Wedding Day"
Las Vegas, NV (PRWEB) November 25, 2011
Las Vegas wedding company ScenicLasVegasWeddings.com is giving away 25 free Las Vegas weddings for Valentines Day 2012. The free wedding giveaway is intended to give back to those in the community who cannot afford a wedding due to the economy, job loss or other financial issues.
Beginning December 1, 2011, couples will need to register online at http://www.ScenicLasVegasWeddings.com for a 30-minute time slot either at the Scenic Gazebo (weddings from 9 AM-5 PM) or the Scenic Studio (weddings from 5:30 PM-8:00 PM). Weddings for up to 25 couples will be confirmed on a "first come, first serve" basis to be performed Tuesday, February 14, 2012.
Co-owner and Minister of ScenicLasVegasWeddings.com, Melissa Tomsik, states, "The current US unemployment rate is 9.1% with home foreclosures and short sales still continuing
at an alarming rate. While weddings still take place in a down economy, with job losses and home losses, some couples cannot even afford an extremely scaled back version of a wedding."
About ScenicLasVegasWeddings.com:
ScenicLasVegasWeddings.com is a husband and wife team of Las Vegas wedding photographers. They specialize in marrying couples at various scenic Las Vegas locations, such as the Red Rock Canyon, Valley of Fire and they have their own wedding chapel and gazebo on site. Contact ScenicLasVegasWeddings.com for an unforgettable wedding experience in and around the Las Vegas area.
# # #