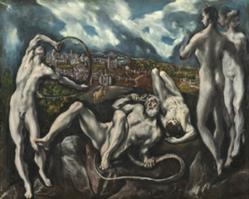 The first major exhibit in Germany to focus on El Greco and the influence of his genius on Modernism.
Düsseldorf, Germany (PRWEB) November 28, 2011
Many of Modernism's great artists name the Greek 16th Century painter El Greco as a major source of inspiration and fascination, including Cezanne, van Gogh, Picasso, Delauney, Macke, and Marc. About 100 works by them and other modernist painters will be juxtaposed with 40 of El Greco's original works from major international collections, including New York's Museum of Modern Art (MoMA) and Metropolitan Museum of Art at Museum Kunstpalast from April 28 – August 12, 2012.
The show not only explores the influence that El Greco's genius had on Modernism, it is also the first major exhibit in Germany to focus on the artist. It focuses on works by El Greco that speak to the particular psychology of that time and incorporates various motifs in his art, including portraits, landscapes, and religion.
It was almost 100 years ago that many artists of the young Modernism movement were first exposed to El Greco's art in Düsseldorf, Paris, Budapest, and other places in which El Greco's art experienced a renaissance. Many of those artists were born in the 1880s, like Oskar Kokoschka, Max Oppenheimer, Max Beckman, and Ludwig Meidner. The upcoming exhibit both marks the anniversary of this encounter and shows the influence it has had on many aspect of expressionism since then.
The extraordinary relationship between human figure and space in the world of El Greco's images helped those avant-garde artists move into new expressions in their art, like abstractness, or the emotional state of a modern self, such as the existentialism felt by many at the time, and made El Greco one of the key figures of Modernism around 1910.
The exhibit will include works from some of the world's major museums and collections, among them New York's Museum of Modern Art, Metropolitan Museum of Modern Art, Guggenheim Museum, and Hispanic Society of America; The National Gallery of Art, Washington, D.C.; The Philadelphia Museum of Art, Philadelphia, PA; and many others.
For more information on the exhibit and Museum Kunstpalast, visit http://www.smkp.de
For hotel and travel specials, called "Art in Düsseldorf," offered by the city's tourism office, see the travel offers page on http://www.visitduesseldorf.de.
Düsseldorf Marketing & Tourism GmbH is the visitors and convention bureau of the city of Düsseldorf. Its responsibilities include tourism and city marketing, as well as conference and meeting marketing, hotel reservation services, fairs and convention services, city event ticket sales and advance ticket reservations. For more information, visit http://www.visitduesseldorf.de.
Düsseldorf International Airport, Germany's third largest, offers several non-stop flights from US & Canadian cities (Atlanta, Chicago, Ft. Myers, Los Angeles, Miami, New York, Newark, Toronto, San Francisco, Vancouver), as well as convenient connections to many European cities. For more information about the airport, visit http://www.fly2dus.com.
###