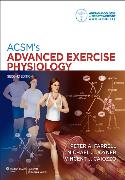 Indianapolis, IN (PRWEB) November 28, 2011
Growing interest in the field of exercise physiology has inspired many professionals recently to focus their work on one of the body's systems or functions. While this specialized approach has benefits for professionals, it also has shortcomings that are addressed in the newly released second edition of ACSM's Advanced Exercise Physiology.
"It is vital for students and professionals to have an advanced understanding of each of the body's systems because no system acts on its own," said Peter A. Farrell, Ph.D., FACSM, an editor of the second edition. "The cardiovascular system interacts with the respiratory system which interacts with the nervous system. You can't understand one without considering the others."
The second edition of ACSM's Advanced Exercise Physiology teaches graduate- and advanced undergraduate-level students basics of exercise physiology and an in-depth understanding of the complexities inherent in physiological adaptations to exercise. Chapters cover everything from the effects of exercise on the cardiovascular system to the systems' reactions to altered environments.
Additions to enhance usability in the second edition include:

Integrated chapters, so when a content area is discussed more than once, the reader is alerted to this additional coverage.
Summary statements and key points set apart in the text to recap important concepts addressed in each section.
New "test yourself" questions developed by the authors to help students retain information by prompting them to answer questions as they read.
Updated "Milestones of Discovery" to review classic investigations that had major impact on an area of investigation.
An international team of authors and editors – including Farrell; Michael Joyner, M.D., FACSM; and Vincent Caiozzo, Ph.D., FACSM – compiled the second edition using their expertise in general physiology, exercise physiology and research. While the material is advanced, Farrell hopes the enhanced features will make it more user-friendly for students.
"While many undergraduate textbooks explain what happens to each system during exercise, this textbook explains why each system acts as it does," said Farrell. "It is complicated material, but we'd be doing students a disservice to water it down. Instead, we kept the material advanced but focused on making it user-friendly."
ACSM's Advanced Exercise Physiology is available for $114.95 through the Lippincott Williams & Wilkins website or by calling (800) 638-3030. Members of the media interested in ordering a review copy of the book or requesting an excerpt may contact Sarah Schuessler, Lippincott Williams & Wilkins, at (215) 521-8384 or sarahschuessler(at)wolterskluwer(dot)com. Members of the media interested in scheduling an author interview may contact Ashley Crockett-Lohr, American College of Sports Medicine, at (317) 637-9200 ext. 133 or alohr(at)acsm(dot)org.
Peter A. Farrell, Ph.D., FACSM, is a Professor of Kinesiology at East Carolina University. In 2003, he was awarded the Citation Award from the American College of Sports Medicine. He is a member of the National Academy of Kinesiology and served as an Exercise Councilor for Exercise Physiology in the American Physiological Society. Dr. Farrell taught Advanced Exercise Physiology at Penn State University for 16 years. His research focuses on endocrine aspects of exercise physiology.
The American College of Sports Medicine is the largest sports medicine and exercise science organization in the world. More than 45,000 international, national and regional members and certified professionals are dedicated to advancing and integrating scientific research to provide educational and practical applications of exercise science and sports medicine. Learn more at http://www.acsm.org.
Lippincott Williams & Wilkins (LWW) is a leading international publisher for healthcare professionals and students with nearly 300 periodicals and 1,500 books in more than 100 disciplines publishing under the LWW brand, as well as content-based sites and online corporate and customer services.
LWW is part of Wolters Kluwer Health, a leading provider of information and business intelligence for students, professionals and institutions in medicine, nursing, allied health and pharmacy. Major brands include traditional publishers of medical and drug reference tools and textbooks, such as Lippincott Williams & Wilkins and Facts & Comparisons®; and electronic information providers, such as Ovid®, UpToDate®, Medi-Span® and ProVation® Medical.
Wolters Kluwer Health is part of Wolters Kluwer, a leading global information services and publishing company. The company provides products and services for professionals in the health, tax, accounting, corporate, financial services, legal, and regulatory sectors. Wolters Kluwer had 2009 annual revenues of €3.4 billion ($4.8 billion), employs approximately 18,200 people worldwide, and maintains operations in over 40 countries across Europe, North America, Asia Pacific, and Latin America. Wolters Kluwer is headquartered in Alphen aan den Rijn, the Netherlands. Its shares are quoted on Euronext Amsterdam and are included in the AEX and Euronext 100 indices. Visit http://www.wolterskluwer.com for information about our market positions, customers, brands, and organization.
###