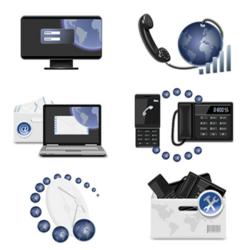 Before we were not aware that there's a client that was using almost all of the bandwidth. Now with WUN, we are able to track and monitor the bandwidth usage for each client."
(PRWEB) November 29, 2011
WUN Systems, Inc. has announced a new, state of the art enterprise hosted VOIP technology solution. The WUN Suite includes everything from mobile telecommunications capabilities to conference room booking and bandwidth management.
WUN Systems, Inc. has been operating in the United States since 2008, is a member of Alliance Business Centers, and won an award for Associate Member of the Year 2011-2012 from the Global Workspace Association. In addition to their many accomplishments, they are viewed as the world's most trusted source for user-friendly data network management tools for executive suites. WUN Suites, composed of six modular parts, provides the serviced office administrator with the ability to perform complex tasks such as creating a public IP for a tenant or restricting a tenant to a particular bandwidth level, without the help of technical support. These tasks can be accomplished through simple clicks of the mouse which can make them ideal for multi-tenant business centers.
WUN Suites integrates the use of a new cutting edge, cloud technology. This technology is perfect for technique to help expand your virtual office revenue and support the remote workers. Through the power of the internet, the WUN cloud provides an easy solution, without any costly hardware investment, for both the business center operator and business center customer to remotely and resourcefully manage their business.
WUN Voice is one of the six modular parts that make the WUN Suite most desirable and it features an enterprise class phone system that does not require any large up-front investments or costly maintenance fees. The only hardware an executive suite administrator may need to worry about is the telephone handset plugged into the wall. WUN Voice not only provides the business center manager with a solution in which all of the telecommunications equipment are hosted in the cloud, but they are also managed 24/7/365 by the WUN Voice team.
Dale Hersowitz, Senior Partner of WUN Systems, Inc. gives you all the information in their new brochure for WUN Suites. When asked why business owners should switch from another service provider he replied, "The "if it's not broken, why fix it" attitude isn't always the best philosophy. In fact, your technology may be broken; you just don't know it for the following reasons: You are over-spending with your internet carrier, you or IT specialist could be spending 5 times as much time on each technology task costing you thousands, and you are potentially losing out on large re-occurring revenue opportunities."
WUN data, a turn-key hardware solution, is designed to manage your network simultaneously. This includes bandwidth management and reporting, network security (VLANS), network real-time monitoring, WiFi management and solutions, network redundancy and failover. Greg Kintz, owner of AMG Corporate Offices states "Before we were not aware that there's a client that was using almost all of the bandwidth. Now with WUN, we are able to track and monitor the bandwidth usage for each client."
For additional information regarding WUN's unique enterprise hosted VOIP solutions go to http://www.wunsystems.com
###