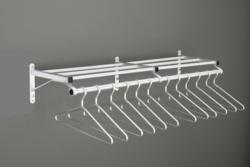 All of Glaro's new economical products are in stock and ready for immediate shipment.
Hauppauge, NY (PRWEB) November 29, 2011
With the cold weather upon us, Glaro has proudly released several new models of affordable coat hanging equipment, umbrella stands, and wet umbrella bag holders. Executive Vice President of Glaro Incorporated, Robert Betensky, explains that the new products are "priced for the times without sacrificing quality and they are designed to meet market needs." Mr Betensky states that "manufacturers in the USA must be sensitive to the needs of Americans today. By listening to customer requests and by harnessing the talent of our craftsmen, we focus on developing and designing aluminum products that are attractive, easy to maintain, and built to last."
Glaro's continued focus on innovation and quality is evident in this new Value Series of products, which maintains Glaro's high quality standards while offering economical price points. New coat hanging equipment includes wall mounted coat racks, heavy duty solid aluminum coat hangers, and wall mounted shelving. Glaro Value Series of coat racks and shelves are available in several popular lengths to store supplies and properly hold clothing.
Other new arrivals include wet umbrella bag holders, which are floor standing, wall mounted, or crowd control post mounted. These bag holders for umbrellas help keep floors dry and help prevent "slip and fall" accidents. Glaro bag holders for wet umbrellas are perfect for any building lobby or mall. There are also several new models of coat trees and combination coat tree/umbrella stands available with satin aluminum, brass, black, and 2 tone finishes. Umbrella Stands, in various designs and finishes, are available for tote and full size umbrellas with large and small capacities.
Full details of all of these new products can be reviewed and downloaded on the Glaro Inc. website. Like most Glaro product lines, Glaro products include recycled materials and they come in a variety of sizes and finishes. They are ready for immediate shipment out of the company's Hauppauge, NY factory.
About Glaro: Glaro, Inc. (glaro.com) is a leading manufacturer of commercial and consumer aluminum products sold through dealers for over 65 years. All products ship in 1 to 3 days. Glaro products are the result of a focus on thoughtful innovation and design. Product lines include bellman carts, waste receptacles, recycling receptacles, smokers' posts, crowd control posts, sign frames, and directories, coat hanging equipment, umbrella stands, planters, and key drop boxes. A diverse selection of models in over 31 finishes is produced in the Hauppauge, New York plant by skilled Glaro craftsmen. The company is known for its quality merchandise and its ability to consistently quick ship all products. The customer service department provides unusually prompt personal service and is sensitive to the needs of dealers.
###