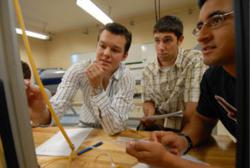 Newberg, Ore. (PRWEB) November 25, 2011
Some of the brightest ideas to come from the minds of aspiring engineers will be on display when George Fox University's engineering program hosts its annual engine competition on Thursday, Dec. 8. The event will feature the projects freshman students have built as part of their engineering major.
The university's eighth annual "Wobble-Off" competition is scheduled to begin at 3:30 p.m. in the Ron Gregory Atrium in the Edwards-Holman Science Center on the school's Newberg, Ore., campus. The event will last about two hours.
The demonstration will feature a variety of oscillating steam/air-operated engines. The event is the culmination of the students' first-year studies in engineering design, solid modeling and machining. The engines will compete in a variety of categories, including maximum speed, minimum vibration, maximum coast, cost efficiency and creativity/craftsmanship.
The public is invited to attend at no charge.
George Fox's engineering program offers concentrations in civil engineering, mechanical engineering, computer engineering and electrical engineering. With the addition of civil engineering in the fall of 2009, George Fox became the first West Coast institution in the Council for Christian Colleges & Universities (CCCU) to offer a civil engineering program.
The university is one of only 15 CCCU schools nationwide that offers a four-year engineering program with accreditation from the Accreditation Board for Engineering and Technology. The CCCU has 113 members in North America and 70 affiliate institutions in 25 countries.
George Fox is the only Christian college in Oregon that offers a four-year ABET-accredited engineering program and one of only two Christian schools in the Northwest that do.
George Fox University is ranked by Forbes and Kiplinger's among the top Christian universities in the country and is a Christian college classified by U.S. News & World Report as a first tier regional university and a "Best Value" school. More than 3,500 students attend classes on the university's campus in Newberg, Ore., and at teaching centers in Portland, Salem, and Redmond, Ore., and Boise, Idaho. George Fox offers bachelor's degrees in more than 40 majors, degree-completion programs for working adults, five seminary degrees, and 11 master's and doctoral degrees.
Contact:
Kristin Bontrager
Department of Mathematics, Computer Science and Engineering
503-554-2780
###