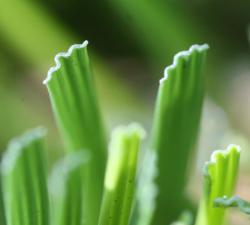 Anaheim, CA (PRWEB) November 29, 2011
Forging ahead in the high-tech yarn race that moves the artificial turf industry,Synthetic Grass Warehouse today introduced an exclusive W fiber. The corrugated blade design, developed in conjunction with TenCate and TigerTurf and manufactured in the United States, sets new standards for resiliency and lifelike appearance.
A culmination of extensive research and development, W is extruded as a series of lateral parallel concaves in thick yet supple polyethylene monofilament. The W-shaped profile results in a "memory" fiber that resists matting, with reduced reflectivity and superior durability -- a significant advance over conventional flimsy slit film or single-spine fibers.
W filaments, a follow-up to the revolutionary S and C yarns introduced in 2009, are now available in SGW's new Diamond Pro Spring turf and will be phased into additional product lines in 2012.
Design-forward innovations in W are measured in microns and individually visible only with a magnifying glass, but seem massive compared to old-fashioned rectangular-profiled blades cut from sheets of polymer that were prone to lay flat and look shiny. W fiber is extruded as a singular strand, like the yarns manufactured in the form of S and C, and manipulated through a spinneret into the revolutionary corrugated profile that withstands heavy traffic and minimizes solar glare.
The benefits of W fiber in Diamond Pro Spring, a 1¾-inch landscaping turf tufted at an ultra-dense 88 ounces per square yard, will be obvious to consumers. Constructed in contrasting but complimentary shades of Field Green and Lime Green and a brown thatch, the xx-micron W fibers produce appearance and texture virtually identical to immaculate natural grass … except it needs none of the usual maintenance. Unlike turfs constructed of plastics such as Nylon, the W polyethylene is non-abrasive, contains no lead or heavy metals and is 100% recyclable.
SGW, which built a reputation for fiber quality and innovation, is poised to remain at the forefront of yarn technology. The W fiber will be proprietary to SGW, sold only through its North American network.
About SGW
Synthetic Grass Warehouse, the exclusive national distributor of TigerTurf, is the best-selling brand in North America. Founded in 2003, SGW delivers a wide selection of landscape turf, pet turf, putting greens and accessories for synthetic grass and offers same-day shipping on all orders.
###