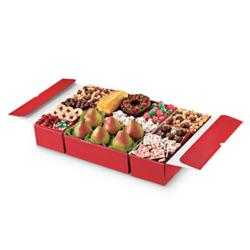 Shop for our popular holiday gifts online on Black Friday and save big on Christmas shopping without having to wait in long, frustrating department store lines.
Medford, Oregon (PRWEB) November 23, 2011
Harry & David, America's gift experts for over 75 years, is kicking off this holiday season with deep discounts on specialty holiday gifts, including including Moose Munch, organic pears, chocolate-covered sweets, and more. Find affordable gifts at discounted prices during our limited-time Black Friday sale!
Shop for our popular holiday gifts online on Black Friday and save big on Christmas shopping without having to wait in long, frustrating department store lines. Count down the days before Christmas and save 23% on our elegant and tasty 12 Days of Christmas Gift Box. This gift box contains 6 of our signature Royal Riviera® Pears and a colorful assortment of our world-famous specialty candies and baked goods. Also included are two delightful varieties of our decadent Moose Munch® popcorn. Our Moose Munch® popcorn is dipped in a smooth caramel glaze or in a thick coat of rich, delicious chocolate, and then mixed with caramel glazed cashews and almonds. All of these delicious items come carefully packed in an attention-grabbing, 8.8 pound cherry-red box and make for excellent, affordable gifts for anyone!
Our holiday gifts consist of a huge variety of delicious treats ranging from Moose Munch® popcorn to fruitcake. Pamper loved ones this holiday season and indulge their sweet tooth by sending them our beautiful Grand Holiday Sweets Tower at 22% off the original price! Gather around the hearth and enjoy wonderful comfort food, including our irresistible Moose Munch® as well as our lavish collection of chocolates and baked goods. Nine varieties of chocolate come in a tasteful, ornately patterned, three-tiered tower that will surely impress friends and family.
Start holiday shopping early and save big on holiday gifts with Harry & David's best deals of the year. Indulge taste-buds and show thanks by sending our Holiday Moose Munch® Gift at 33% off! Each container is filled with 1.5 pounds of Moose Munch® in three delicious varieties – dark chocolate, milk chocolate, and caramel chocolate. Each batch is freshly made from our own bakery with the finest ingredients and the greatest care to make sure that every kernel is perfectly flavored and textured. This Harry & David staple should a top choice for affordable gifts. Whether sharing at a party with friends or eating at home with family, our Holiday Moose Munch® Gift will satisfy all cravings and will leave everyone wanting more.
Tired of sending boring gift cards? Send friends and family a case of our signature organic pears at 17% off! The Favorite® Royal Riviera® Pears are Harry and David's signature fruit and come individually wrapped in leafy tissue inside of a decorative box. These famously large, sweet, and juicy organic pears are world-renowned and make wonderful gifts to any health-conscious fruit lover. Get them and all of our other holiday gifts fresh and quickly-delivered today by shopping online at our Black Friday sale! Deliver happiness with our holiday gifts.
In addition to these favorite holiday gifts, Harry & David offers a variety of affordable gifts. Browse through the selection on the Harry & David website and to find great gourmet holiday gifts for everyone on the list!
Sale prices of our holiday gifts begin Thursday, November 24th, 2011 (Thanksgiving Day) and run through Friday, November 25th, 2011. Facebook fans will have access to the sale at an earlier date.
All orders are backed by a 100% guarantee. If those who receive our gifts are not fully satisfied, Harry & David will provide either an appropriate replacement or a full refund. Visit our website for more information.
For the latest holiday updates and news from Harry & David, join our Facebook fan page, http://www.facebook.com/HarryandDavid, or follow us on Twitter, http://twitter.com/harryanddavid.
About Harry & David
With a 75-year reputation for genuine farm-to-table freshness and unsurpassed artisanal quality, Harry & David is legendary for exclusive gifts such as the Fruit-of-the-Month Club® collection, featuring top-quality fruit, pampered on the tree, picked at its peak; Royal Riviera® Pears, prized for their lush juiciness, melting texture and exquisite flavor, many of which are grown in Harry & David's Rogue Valley, Oregon pear orchards which are at the heart of the company's success; Oregold® Peaches, the biggest, juiciest, sweetest-tasting peaches; and Moose Munch® gourmet snacks, most of which are made exclusively in our own confectionery, in flavors for everyone - some with nuts, some sweet, and some savory. The Harry and David catalog offers a wide variety of gift baskets, fresh fruit gifts, gift towers & boxes, chocolate gifts and business gifts for every occasion. Gifts from Harry & David, and its brands Cushman's and Wolferman's, are designed for festive occasions, entertaining and self enjoyment throughout the year. Through its stores, catalogs and website, Harry & David offers an affordable "best-of-class" experience as part of everyday life. Happiness Delivered! Harry & David is a dba of Harry and David. http://www.harryanddavid.com
# # #