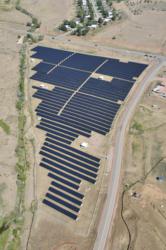 Conergy, with local expertise backed by global strength, brings best practices from more than 500 MW of solar parks and 15 years of experience to every project."
Denver, CO (PRWEB) November 30, 2011
Conergy Solar Large Project Developer in Western US, David Vincent, will be participating in a session about the Importance of EPC Bankability. Mr. Vincent will bring nearly 6 years of PV experience, combined with his education in Construction Management to his speaking engagement. With expertise in NEM Commercial, Agriculture, and Government Projects and having developed over 10 MW of California systems, Mr. Vincent can offer insight into every step of solar project development, from EPC, O&M, financing and permitting. In his speaking engagement at the PV Power Plants – USA 2011, Mr. Vincent will discuss the factors that make an EPC bankable. Mr. Vincent is participating in a session called called "Financing and Bankability" and will be presenting on "The Importance of the EPC's bankability" on Thursday, December 1, 2011 at 8:30 AM.
"Since the EPC of a solar energy project acts as the projects backbone and is the main construction risk holder, it is crucial that an EPC company's is bankable financially and via its track record. Conergy, with local expertise backed by global strength, brings best practices from more than 500 MW of solar parks and 15 years of experience to every project," stated David Vincent, Conergy Project Developer.
Conergy Solar Large Projects Group recently signed four different solar energy projects totalling over 3 MW in California, one of the country's leading solar energy states. In northern California, Conergy will act as the project developer and offer EPC services in an agriculture ground mount installation. In central California, Conergy has signed a ground mount and car port installation in both the education and government sectors. In addition, Conergy will be the project manager and offer EPC services for an agricultural ground mount and roof top installation.
About Conergy North America
As a full system manufacturer, Conergy Group delivers solar energy systems from a single source and offers all services under one roof.
Through deep-rooted operations in 18 countries, Conergy System Sales sells premium Conergy products to customers in nearly 40 countries worldwide. Conergy supports homeowners, installers, wholesalers and investors in their efforts to "go solar.". With local sales activities on five continents, Conergy has close relationships with all its customers. Listed on the Frankfurt stock exchange, Conergy employs more than 1,700 people worldwide. Since Conergy's founding in 1998, it has produced and sold more than 1.5 GW of clean solar power, and developed over 500 MW of solar parks.
Conergy's Solar Large Projects Group manages the planning, financing, installation, monitoring, and ongoing operations and maintenance for turn-key solar projects across the globe. Conergy's broad project expertise ensures maximum performance from every Conergy power plant.
Through its acquisition of well-established local companies, Conergy began operating as a distributor and project developer in North America in 2005 and currently has five offices, four warehouses and three production sites in the region. In North America, Conergy is both a manufacturer and wholesaler. Conergy manufacturers mounting systems in Sacramento, CA. In Ontario, Canada Conergy produces modules and mounting systems that meet local content requirements for the Provincial FIT. Conergy offers innovative products and tailored services to its North American network of system integrators and project developers. Through these activities, Conergy maintains expert knowledge about local market conditions and requirements.
Please contact us if you have any questions or requests.
###