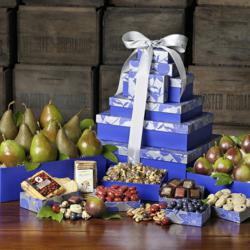 "We wanted to deliver the best value to our new and returning customers," says The Fruit Company's CEO and third-generation orchardist, Scott Webster. "This year, we made the offer even bigger with unprecedented discounts."
Hood River, OR (PRWEB) November 23, 2011
The Fruit Company®, one of the top U.S. fruit & gift basket companies, has set Black Friday offers on their best-selling items with exclusive offers only offered this day of the year. For their signature HarvestClub™, a monthly fresh-fruit delivery, a rarely-offered 10 percent off retail plus free shipping (a potential $50.00 value) will be available online. Additionally, The Fruit Company's best-selling Gift Towers, ranging in price from $49.95 to $119.95, will be discounted plus free shipping. The must-have gift towers will include a mix of orchard-fresh fruit, chocolate covered cherries, truffles, nuts, cheeses and salmon in The Fruit Company's beautifully designed gift boxes.
All special offers will be available starting Friday morning November 25th on the company website, http://www.thefruitcompany.com, and will end at 11:59pm PST that same day. The Fruit Company's expert in-house customer service team will be available 6am PST to 6pm PST and a 24hr call center will also be available to take orders and answer questions.
"We wanted to deliver the best value to our new and returning customers," says The Fruit Company's CEO and third-generation orchardist, Scott Webster. "This year, we made the offer even bigger with unprecedented discounts."
The Fruit Company HarvestClub Black Friday Offers
Below are descriptions and pricing of The Fruit Company's monthly fruit clubs that are available in various sizes and shipments to meet all holiday shopping price points. The Black Friday discounts of 10 percent and free shipping are ONLY offered on November 25, 2011.
HARVESTCLUBTM AMERICANA
Starting at $69.95 includes free shipping
The Fruit Company's signature monthly fruit club delivers box after box of wholesome, outstanding fruit to your recipient each month of your choosing.
Fresh Fruit Options Include (more available online): Navel Oranges, Sugar Red Grapefruit, Golden Supreme Apples, Dark Sweet Cherries, Comice Pears, etc.
HARVESTCLUBTM EXOTICA
Starting at $89.95 includes free shipping
For the adventurous fruit lover! The Exotica HarvestClub brings exotic treasures from both near and far to your home each month in exciting new combinations.
Fresh Fruit Options Include (more available online): Starfruit & Kiwi, Pluots & Papaya, Baby Pineapple & Baby Kiwi, Rainer Cherries, Pomegranates & Kumquats, Asian Pears & Feijoas, etc.
HARVESTCLUBTM ORGANIC
Starting at $79.95 includes free shipping
A mix of the finest certified organic fruits of the seasonal selections. A perfect gift for an ever-so-grateful recipient.
Fresh Fruit Options Include (more available online): Organic Navel Oranges, Organic Fuji Apples, Organic Grapefruit, Organic Mangos, Organic Pink Lady Organic Apples, etc.
HARVESTCLUBTM DELUXE
Starting at $109.95 includes free shipping
The HarvestClub Deluxe features an amazing array of fresh-fruit options that come delivered with a signature Bountiful Collection fruit basket - a great value for any occasion.
Fresh Fruit Options Include (more available online): Columbia Red d'Anjou Pears, Golden Supreme Apples, Summer Apricots, Mountain Blueberries, Imperial Asian Pears, Oregon Peaches, etc.
The Fruit Company Holiday Gift Towers & Black Friday Offers
The Fruit Company's best-selling gift tower selections below will offer discounts between $10 to 30 dollars (noted below) plus free shipping. The perfectly packaged items make for gorgeous gourmet displays. See descriptions and discounted pricing below.
HOLIDAY TOWER
$49.95 includes free shipping – Discount Amount: $10
The 5-box Holiday Tower is a gift that keeps on giving, with colorful boxes of Comice and Bosc pears, Fuji apples, chocolate-covered Bing cherries, mixed nuts, and chocolate truffles. It is an ideal gift for a favorite family (everyone can open his or her OWN box), or for someone you want to recognize in a BIG way.
CLASSIC PLAID TOWER – Discount Amount: $20
$79.95 includes free shipping
The Classic Holiday Plain Tower includes box after box of sumptuous treats – pears, apples, pistachios, wild smoked sockeye salmon and more. So go ahead – make a list, check it twice, and then send off this much-appreciated gift to every one of them!
WINTER DELIGHTS TOWER
$79.95 includes free shipping – Discount Amount: $20
More truly is better with this towering assortment of Comice pears, Columbia Red D'Anjou pears, Pink Lady apples, milk chocolate covered blueberries, gourmet cheese selections and more. It's a tasteful gift that will elicit "ohhhs" and "ahhhs" from friends and family, and it's perfect for anyone who is entertaining.
GRAND HOLIDAY TOWER
$119.95 includes free shipping – Discount Amount: $30
A 9-box tower of the most exquisite fruits, nuts, and goodies that you've ever experienced! Three types of pears? Check. Chocolate-covered Bing cherries and blueberries? Check. Mixed nuts and chocolate truffles? Check. And that's just for starters. Send it to the hostess of that lavish holiday party you're attending. Or choose it for a favorite family so that everyone gets to open a present!
About The Fruit Company:
The Fruit Company, located in the Hood River Valley of Oregon, has dedicated itself to delivering the finest orchard fresh fruit and gourmet gifts. The company heritage, spanning three generations, is focused on delivering the best-tasting, healthy items from their vast product offerings. As one of Oregon's Top 15 growing companies and part of Internet Retailer's Top 50 "Best of Web", The Fruit Company continues to impress and amaze with a wide selection of gift items -- for all occasions -- shipped throughout the United States. Today they are one of the top gift basket companies and employ more than 200 people during their peak season. For more information on The Fruit Company's gift selections and sustainable practices, please visit their website at http://www.thefruitcompany.com.
###