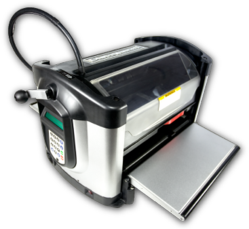 This is the next logical step in the evolution of the CarveWright and CNC in general.
Pasadena, Texas (PRWEB) November 24, 2011
In November of 2006, LHR Technologies was the first company to introduce a low-cost (under $2000) computerized woodcarving system designed specifically for the hobbyist CNC market. Since then, the CarveWright System has become the most sold and most used of any small table-top carving machine. Now, 5 years later, the CarveWright System is making another significant first with the only personal CNC router under $1000.
Now in its fourth generation with the CarveWright Version C, LHR has continued to focus on its original goal. "We set out to change the industry and make this technology much more accessible to the individual and small business owners. This is the next logical step in the evolution of the CarveWright. Over the last 5 years, we have continually added to the machines capabilities and increased its reliability; now we can offer it at the unheard of price of $999," says CEO & Inventor, Chris Lovchik.
Built with a small footprint and patented feed through system, the CarveWright offers the largest output capacity available. Projects can be designed up to 144" in length and 14.5" in width, but using the Tiling Technique, finished project sizes are unlimited.
With your ideas, a carving medium (wood, hard plastic or foam), and your personal computer, the basic system includes everything else you need to get started. As not every individual's skill level and budget is the same, LHR's pricing system allows customers to build upon their system as needed offering a full array of advanced software features such as the ability to import 2D & 3D files, carve 360º on 2" dowel rods & select from a multitude of specialty bits to suit your project.
Customers have pushed this product far beyond original expectations. Through their individual creativity, they have found new ways to use this desktop fabricator. From arts & crafts, sign making, building musical instruments and woodworking projects to full 3d sculptures and prototypes, the machine's versatility is limited only by ones imagination.
For more information regarding LHR Technologies or the CarveWright Woodworking System, please call the company at (713) 473-6572 or visit the website at http://www.carvewright.com.
About LHR Technologies, Inc.:
LHR Technologies' revolutionary carving system was first introduced through Sears in 2006 as the CompuCarve. The machine is now sold as both the Craftsman® CompuCarve at Sears and as the CarveWright® System through several leading woodworking and home improvement stores, including as Lowe's, WoodCraft Supply, Amazon.com, Northern Tool + Equipment, AAFES and select Ace stores. The machine is widely distributed to woodworking and technical educational programs at high schools, middle schools, technical colleges and universities throughout the country. It offers not only a small, compact and affordable alternative to computer numerically controlled (CNC) systems, but also an intuitive and user-friendly software suite that LHR has continued to enhance into a robust, full-featured package.
If you would like more information about this topic or to schedule an interview, please contact Joe Lovchik at (713) 473-6545 x 825 or jlovchik(at)lhrtech(dot)com.
###