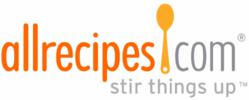 It's so rewarding to be the ultimate food resource for American cooks on the biggest food holiday of the year.
Seattle, WA (PRWEB) November 25, 2011
Allrecipes.com, a Reader's Digest Association (RDA) company and the world's #1 digital food brand, celebrated their biggest Thanksgiving ever as record-breaking numbers of home cooks visited the site the weeks leading up to the Thanksgiving Day holiday. The day before Thanksgiving, Wednesday November 23, saw Allrecipes' busiest traffic day ever, shattering previous records with more than 6.8 million visits from home cooks consuming more than 32.5 million pages of food focused content - an 32 percent increase compared with 2010.
According to Allrecipes' 2011 Holiday Trends Survey, recipe websites are now the most preferred resource for holiday meal planning. More than 83 percent of survey respondents gather their holiday recipes from websites—50 percent more than cookbooks and 150 percent more than magazines. The fastest growing trend this year was the number of cooks seeking recipes using a mobile device. Visits to Allrecipes.com from a mobile device during the three weeks leading up to Thanksgiving were up 218 percent year-over-year.
"Thanksgiving is the most popular holiday for a home-cooked feast. Seventy percent of Americans had home-cooked Thanksgiving meals this year, and it's so rewarding to be the ultimate food resource for them as they embrace the latest digital technologies, platforms and devices to simplify meal planning," said Lisa Sharples, president of Allrecipes.com. "Allrecipes has always believed digital technology, social media, and online communities would revolutionize how, when, and where cooks are thinking about their next meal."
Record numbers of home cooks also sought out original, made for the web video content to gain inspiration and confidence for preparing the year's biggest feast. Allrecipes.com video views shot up 465 percent year over year as home cooks eagerly devoured instructional food-focused videos on the web, mobile devices and internet TVs. This year's top Thanksgiving videos were:

While home cooks utilized the latest in technology for their Thanksgiving meal planning in record numbers, their top recipe searches were all about traditional holiday fare. The most popular Thanksgiving recipes across the country this year are:

Yummy Sweet Potato Casserole
Perfect Turkey
Turkey Brine
Libby's Famous Pumpkin Pie
Awesome Sausage, Apple and Cranberry Stuffing
There's always something for everyone at Allrecipes. For vegetarians, vegans, and others with dietary restrictions, the top recipes are:

Top vegetarian – Wild Rice Stuffed Acorn Squash
Top vegan – Roasted Beets 'n' Sweets
Top gluten free – Rice Stuffing with Apples, Herbs, and Bacon
Regionally, America's tastes are as diverse as the country's geography. The most popular side dish of each region is:

Northeast – Apple Pie By Grandma
Southeast – Grandma's Corn Bread Dressing
Midwest – Campbell's Green Bean Casserole
Northwest – Thanksgiving Yams
Southwest – Donna's Cornbread, Sausage and Jalapeno Dressing
Enjoy a second helping of Thanksgiving! The most Popular Leftover Recipes are:

Turkey – Turkey Tetrazzini II
Potatoes – Steff's Shepherd Pie
Gravy – Turkey Pot Pie I
Stuffing – Stuffed Acorn Squash
Cranberry Sauce – Stuffy
Bread – Easy Sausage Strata
About Allrecipes
Allrecipes, the world's largest digital food brand, receives 750 million annual visits from home cooks who discover and share food experiences through recipes, reviews, photos, videos, profiles, and blogs on the web and mobile devices. For 14 years, the brand has served as a dynamic, indispensable resource for cooks of all skill levels seeking everyday and holiday meal solutions. Allrecipes' global, multi-platform brand is comprised of 17 websites, 9 apps, and 13 eBooks serving cooks in 22 countries and 11 languages. Allrecipes is part of The Reader's Digest Association, Inc. For additional information regarding Allrecipes, please visit allrecipes.com.
About Reader's Digest Association
Reader's Digest Association is a global media and direct marketing company that educates, entertains and connects more than 145 million consumers around the world with products and services from trusted brands. With offices in 44 countries, the company reaches customers in 79 countries, publishes 86 magazines, including 50 editions of Reader's Digest, the world's largest-circulation magazine, operates 82 branded websites and sells nearly 40 million books, music and video products across the world each year. Further information about the company can be found at rda.com.
###